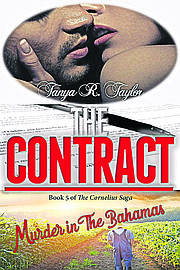 By FAY KNOWLES
The remainder of 2017 will be a busy time for best-selling Bahamian author Tanya R Taylor, who is releasing her 18th novel next week and preparing to add to her bibliography with a new series and a standalone drama.
Her latest book, "The Contract", weaves together a murder mystery with Bahamian history. Eagerly awaited by her fans around the world, it will be available from Amazon on September 4.
"The Contract" is is fifth instalment in the popular paranormal series "The Cornelius Saga". The first book, "Cornelius", has been on the Catholic Board of Education's summer reading list (grades 11 and 12) for the past two years.
In her latest novel, Ms Taylor continues the story of her heroine, Mira Cullen, and ties it into a significant time in Bahamian history.
During the 'Contract' years, a period between 1943 and 1965, an estimated 30,000 Bahamian men and women migrated temporarily to the United States on short-term contracts to work in the agricultural sector.
Wages
According to scholars, this programme left a significant mark upon Bahamian society. Academic historians Michael Craton and Dr Gail Saunders noted that wages earned during this time enabled significant numbers of black Bahamians to leave subsistence farming in the Out Islands or to leave industries in which they worked to start their own businesses.
In the book "The Contract", protagonist Mira Cullen is prompted to fly to the Bahamas to meet a man her brother Wade wants to introduce her to. Daniel Smith, a product of Contract programme, believes it is fate that his chance encounter with Wade has resulted in him meeting the one person who could possibly bring to light and put to rest a decades-old mystery involving his mother.
Smith views the 'The Contract' as an opportunity that literally sustained the lives of tens of thousands, but which also stole the life of the one person he loved more than anyone else in the world.
Ms Taylor explained: "The story of 'The Contract' isn't exactly what you might think of. It's not just a murder mystery that took place around that time Bahamians went to America to work in agriculture, but a story of acceptance, the power of forgiveness, and the courage to overcome thoughts of inadequacy and suicide. It's an emotionally stirring read like all the other books in the series, although this one might, yet again, take you by surprise."
Reactions
She said each book in the series can be read as a standalone story. However, judging by the reactions of her readers, she said it seems people are eager to read all the instalments.
Mr Taylor has had several number one best-sellers in the US, UK and Canadian Amazon stores.
She is the author of both fiction and non-fiction, and all of her books have made Amazon's Kindle Top 100 Paid Best-sellers' List in several categories.
She writes in various genres, including paranormal romance, fantasy, science-fiction, mystery and suspense.
Later this year, she is expected to release the heart-warming drama "The Life I Chose" and start a new series, which will be a spin-off from her "Real Illusions" series.
Ms Taylor has become so practiced in her craft that she said writing five to six thousand words a day is something that comes easy to her.
To find out more about the author's work, visit www.tanyaRtaylor.com or www.facebook.com/tanyartaylorbooks, or browse her books on Amazon.