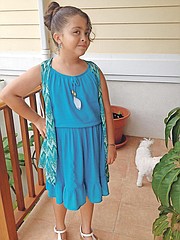 By ALESHA CADET
Tribune Features Reporter
acadet@tribunemedia.net
SHE may be only 11 years old, but Eleuthera native Georgia Birkwieser is already getting serious when it comes to her aspirations of one day becoming a successful author.
Inspired by what she calls "the magical world of dreams," the first part of Georgia's "Dream World", a short story called "The Lake, The Sky, The Barrier", centers around a girl who goes on a sensory and magical journey.
The story begins with: "The sensation of falling helplessly in the air surrounded me. I was scared, terrified, petrified. I closed my eyes, hoping it would go away and it would all be over. Suddenly, I felt as if there was a giant marshmallow and I was sitting inside it because the ground felt soft and moist. I struggled to open my eyes. I feared to wake up in the belly of a monster like the Gob Wobber. Slowly but surely I opened my eyes. It took me a bit to get used to the dim night time glow but I did. And I concluded in my head I wasn't in anyone's stomach.
"I looked to the sky to see what made that beautiful glow. I was shocked and awed to see a beautiful sky."
While the story may be fictional, Georgia said the "Dream World" is as real as the reader believes it to be.
" 'The Dream World' is a story that will hopefully help the reader to cherish their imagination and childhood. Creativity and imagination are needed in this world we live in. It helps us escape from the hardships of real life," the young writer said.
Georgia resides in Tarpum Bay with her parents, Carolyn and Peter Birkwieser, who she said inspire her and always encourage her to do her best.
"I do indeed aspire to become an author.
"I like writing; it puts my ideas on paper. It makes me happy and I want a career that makes me happy. I love my parents dearly.
"They both work in the tourism industry and are hard workers. They make me laugh and teach me new things. I also enjoy reading, drawing, and swimming," said Georgia.
As a seventh grade student at the Deep Creek Middle School, Georgia's goal going forward is to focus on her studies, as well as continue writing her "Dream World" short stories.