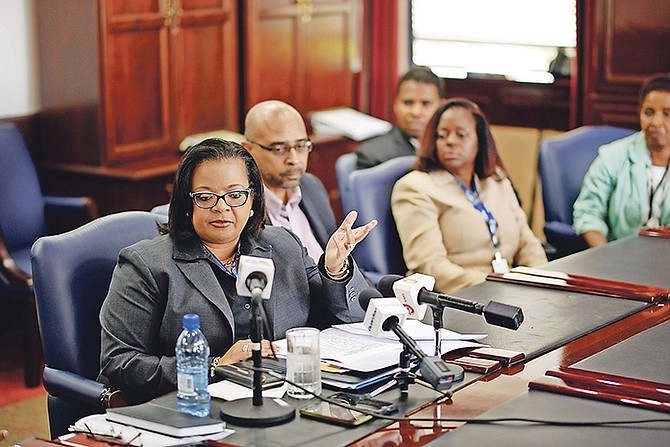 By RICARDO WELLS
Tribune Staff Reporter
rwells@tribunemedia.net
THE Minnis administration is expected to finally table the management services agreement signed between the Christie administration and PowerSecure last year.
In an interview with reporters outside of the Office of the Prime Minister on Tuesday, Works Minister Desmond Bannister insisted the Minnis administration continues to operate "distinctly different" from the former administration.
Responding to questions about when the agreement would be made public, the Carmichael MP told reporters to "be in the House" when sittings resume on September 13, implying the government would finally table the services contract.
Bahamas Power & Light's board of directors cited the MSA when it fired former CEO Pamela Hill last week.
At a news conference, BPL chairwoman Darnell Osborne suggested the move was made as a means of accountability, as specified in the MSA.
Additionally, the board called on PowerSecure to "cure all deficiencies and/or breaches" set out under the MSA within 30 days.
BPL has made headlines over the past few months over a five-month long fraud scheme that involved approximately 44 cheques paid out to 16 vendors from December 16, 2016 to May 9, 2017.
Both the government and the BPL board have received copies of an audit conducted by Ernst and Young.
For his part Tuesday, Mr Bannister said the government is working with PowerSecure to "do what we can" in accordance with that MSA.
Following the discovery of that scheme, three junior employees were terminated and two managers placed on suspension.
In the days following those moves, there was anticipation that the respective unions, the Bahamas Electrical Workers Union (BEWU) and the Bahamas Electrical Managers Union (BEMU), would respond with industrial action.
Addressing this Tuesday, Mr Bannister said he has held some "very productive" meetings with the workers' union in recent weeks.
He added that the BEWU had expressed concern for members and their treatment in the wake of the scandal.
"I've asked them to be patient. There is some very confidential information with respect to the matters that occurred at BEC, it has caused the Bahamian people to lose almost $2m," he said.
Mr Bannister continued: "It is a very serious issue and as Bahamians we all ought to be concerned. The (BEWU) has demonstrated its maturity in indicating that it is going to work with us and they are going to be patient while the process unwinds.
"I can assure you that there is much more to be done at BEC and we are not on any type of witch hunt. We are there to protect every single Bahamian consumer, because after all, it is your money — it is all of our money and we all have to be concerned about it.
"I was very impressed with the maturity of the union. While they have a duty in relation to their members, they have wider duty and a larger duty in relation to the Bahamian public, and they have accepted that duty and we expect to work closely with them."
Asked if he had held similar talks with the BEMU, Mr Bannister added: "We have communicated with the managers' union and we have told them our position. I've seen some releases from them and I do hope that they will take the same mature stance as the workers union."
Mr Bannister said that there were some things that go above and beyond unions, issues he said had to be viewed as "more important to a country."
"This is one of them," he said. "This is a very critical issue and where you find that these things occur, we have to wipe them out and we have to get to the bottom of all of it. I assure you that we will do that."
On Monday, Mike Harreld assumed the role of interim CEO of BPL.
Mr Harreld has said he has no intention of getting involved in the dispute between BPL's board and PowerSecure, rather aiming to focus his energy on improving the power company.
PowerSecure's five-year MSA was promoted by the former Christie administration as being the answer to sub-par electricity service and high electricity bills.
When the agreement was signed in February 2016, the MSA was said to include a business plan which outlines cost-reduction and reliability targets along with renewable energy and customer service initiatives for New Providence and the Family Islands.