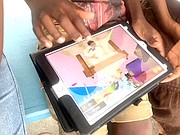 Less than two months after the Island Run Bahamas gaming app launched in Google Play and iOS stores, developers have logged more than 1,700 active users from around the world. App creator and local entrepreneur Don Williams confirmed that downloads during the phase one beta testing period quickly surpassed the team's original target of 1,000.
The interactive "endless running" game is similar to popular titles Temple Run and Subway Surfers and features main character Daniella navigating through the streets of Nassau. Elements of Bahamian culture and local landmarks are featured prominently in two running schemes currently offered on the app.
It took two years for Williams to develop the island-inspired game. He used the past two months to gather feedback from initial users who gave a range of suggestions from options for new running schemes to character development, trivia options and branding ideas to incorporate in future versions of the game.
The app's island appeal has attracted gamers from around the world. An estimated 52% of active Island Run Bahamas users are based outside of the country with gamers in the United States, Canada, Jamaica, China, India and Iraq downloading the app.
"Launching was significant for the Island Run Bahamas team because we now have hard data and feedback to move into executing additional phases of the app," Williams explained.
"As we complete the testing phase, we are actively seeking investors and funding to develop up to 30 running schemes with higher quality graphics and game features. Each scheme or background in the game can be designed to depict scenes from around The Bahamas."
Island Run Bahamas' phase two platform will incorporate Bahamian trivia used to challenge players to bypass game levels. Gamers from around the world using Apple or Android devices will be able to tour The Bahamas virtually through the app.
"Our focus over the next six to nine months is to raise the capital needed to improve the overall functionality of the app," Williams said. "Currently, Island Run Bahamas is available at no cost to the end user, but future plans include monetising certain parts of the app. We see the potential to use this as a marketing tool for the country and we believe that, with proper development, the Island Run Bahamas can thrive in a competitive gaming market. "
Stay connected to developments at Island Run Bahamas by logging on to www.islandrunbahamas.com or following them on Instagram and Twitter @islandrunbah and on Facebook https://m.facebook.com/islandrunbah/