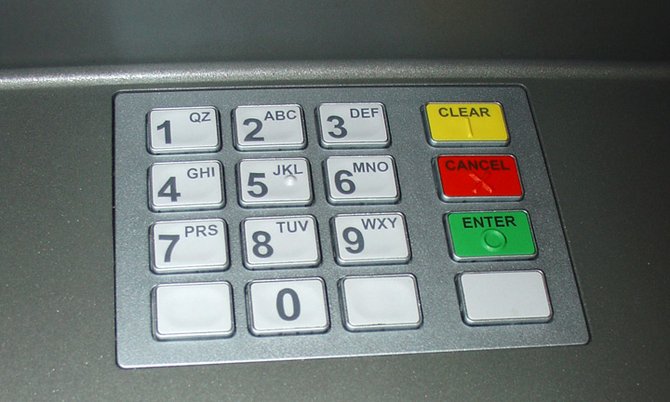 By RICARDO WELLS
Tribune Staff Reporter
rwells@tribunemedia.net
IN the wake of a $72,000 ATM skimming scheme uncovered earlier this month, Central Bank Governor John Rolle said yesterday commercial banks are working to make their electronic platforms "safer."
Noting an increase in schemes predicated on taking advantage of persons using card based systems, the governor said the Central Bank is also putting in place a stronger regulatory framework for the conduct of those providing banking and related services.
In a presentation at the Rotary Club of Southeast Nassau on Wednesday, Mr Rolle indicated that all the Clearing Banks' Association (CBA) members are "moving to introduce more secure EMV chip-based credit and debit cards for point of sale transactions," as means to guard against the potential for credit and debit card fraud.
He added that CBA members are also installing more automated banking machines (ABMs) with built-in protection against tampering.
Earlier this month, 86 persons became victims of fraud involving ATM skimming devices around New Providence.
Fraudsters stole $72,000, an amount police said they expected to rise as more people checked their financial records.
It was also reported that fraudsters were using one of two types of devices to steal information: a fake overlay device or a deep insert skimming device. Both are used along with a hidden camera that captures pin numbers. Stolen information was then used to create duplicate cards with which money from a person's account can be drained.
In response Wednesday, Mr Rolle, a strong proponent for the advancement of a cashless society, implored commercial banks to pick up the pace with respect to its security advances.
He also urged customers to do their parts in protecting their finances. Of consumers, he stated: "We encourage banking consumers to regularly monitor their accounts for unusual activities.
"This is best done by: signing up for online banking services, limiting the number of accounts to which debit cards have automatic access, and the amount of funds kept in those accounts," he added.
Mr Rolle continued: "Understand that going digital, or using a debit or credit card, is still safer than cash. Banks will reimburse customers for losses perpetrated through card fraud. Once lost, cash is much more difficult to recover."
The Central Bank is currently spearheading a national financial literacy campaign aimed at educating consumers in the areas of financial matters, financial inclusion, financial consumer protection, and how these concepts relate to national circumstances.
Mr Rolle said the literacy campaign is intended to better educate consumers about certain basic financial products, empowering them to query their financial institution when they have service level concerns.

He said the Central Bank also intends to develop and publish useful measures of fee comparison for the "typical" customer across all commercial banks.

The campaign also aims to establish a national credit bureau and a financial ombudsman.
Of the credit bureau Mr Rolle said: "It would provide transparency around credit history and current debt levels, allowing prospective lenders to know whether it is a good - or risky - decision to grant a loan."
He continued: "Those considered higher risk would be charged higher interest rates, and in more cases, they would be refused credit. Loan applicants that pose lesser risk would benefit from lower rates and easier access to credit."
"I cannot emphasise this enough: if financial institutions are able to avoid the adverse effects of high levels of bad debt, the pressure to make up lost income through fees or higher interest rates would subside. The government has indicated that passage of the credit bureau legislation is a high priority. Therefore, we look forward to this outcome in the very near term."
On the point of a potential financial ombudsman, Mr Rolle stated: "In keeping with the high-level principles for financial consumer protection promoted by OECD countries, the Central Bank is seeking to promote stronger independent support mechanisms for consumer complaints handling and redress mechanisms."
Mr Rolle said the Central Bank will recommend, and directly support if necessary, the creation of the Office of the Financial Ombudsman (OFO).
He continued: "This office would be tasked with ensuring that consumers of financial products and services have adequate avenues to resolve disputes through an open and transparent process."
"It would be independently operated, potentially with budgetary support by the regulators, the sector and government, but mandated to provide independent, impartial handling of disputes and complaints about domestic financial services."
Mr Rolle said to be most effective, such an office would require legislative terms of reference.
However, he added the Central Bank anticipates that it can serve a strong advocacy role; even in advance of any changes to the current legal framework.

"The OFO would have an important role in identifying systemic issues and serious misconduct, and escalating these issues to the financial service providers and regulators for resolution.
"In the Bahamas, we foresee the need for such an office to address consumer issues in sectors covered by the Central Bank, Insurance Commission of The Bahamas (ICB) and the Securities Commission of The Bahamas (SCB).

"As such, we will work closely with these other regulators to promote this initiative. In any event, we will provide recommendations to the government on a more elaborated legal framework for consumer financial protection in the near term."