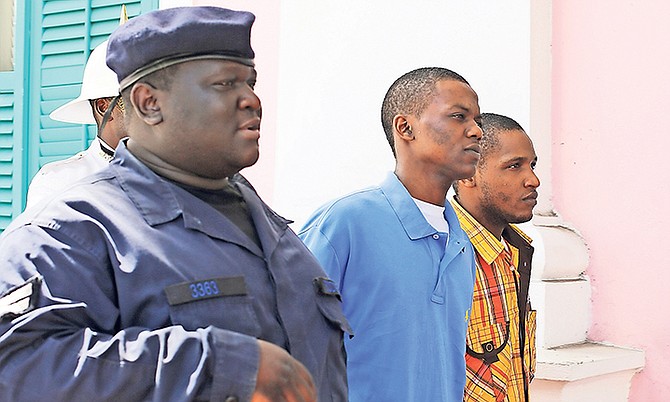 By NICO SCAVELLA
Tribune Staff Reporter
nscavella@tribunemedia.net
A POLICE officer testified yesterday how one of two men accused of the 2014 murder of Blair resident Andre Cartwright presented himself to the accident and emergency room suffering from an injury shortly after the incident in question.
Police officer Dawkins, taking the witness stand before Justice Renae McKay, said Tiano D'Haiti allegedly showed up at the hospital in a silver coloured Honda vehicle on October 28, 2014, the same day Cartwright was shot and killed by home invaders.
Officer Dawkins, one of three officers who testified in day two of the trial, said the vehicle, driven by a woman, pulled up at the hospital, and D'Haiti jumped out, bareback, and told him he was stabbed.
The officer said he did not actually see the wound because D'Haiti had his hand covering the injury, which he claimed was on the left lower side of D'Haiti's torso.
Nonetheless, he said D'Haiti was rushed inside by nurses and taken to the emergency room. The officer said he later saw D'Haiti in the emergency room, and cautioned and arrested him. The female driver was also later cautioned and arrested, he said.
However, defense attorney Jairam Mangra challenged the officer's testimony, charging that there were inconsistencies in what he was telling the court and the police report he wrote at the time of the incident. Mr Mangra further suggested that Officer Dawkins never spoke with D'Haiti.
The matter was adjourned to today at 11am.
Yesterday marked the second day of trial for D'Haiti, of Thompson Lane, and Kevin Andrews, of Montell Heights, in connection with Cartwright's murder which occurred on October 28, 2014.
D'Haiti, represented by Mr Mangra, is accused of murder and attempted armed robbery, while Andrews, represented by Murrio Ducille, is accused of murder, attempted armed robbery and burglary.
According to initial reports from police, Andre Cartwright, 44, was at his Blair Estates home around 1.40am with his mother and father on the morning in question, when men kicked in the door of the house.
When he heard the noise, the deceased got his licensed shotgun and went to investigate, police reported. He encountered the suspects, one of whom was armed with a handgun, police said.
There was a brief exchange of gunfire, which resulted in the victim being shot multiple times. He died at the scene. One of the suspects was also shot, however, initial reports from police said he and the other men escaped in a silver Honda Accord.