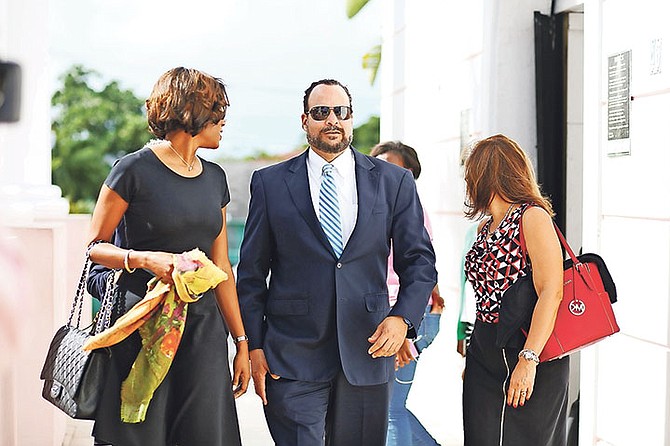 By RASHAD ROLLE
Tribune Staff Reporter
rrolle@tribunemedia.net
THE lead defence attorney in the Frank Smith bribery trial attacked the credibility of Barbara Hanna, the prosecution's lead witness, on Friday.
In so doing, he foreshadowed a no case submission based in part on the allegation that Mrs Hanna condemned her own testimony.
The key moment during Friday's trial came when Mrs Hanna, without prodding, claimed to give police documents about Pouland Limited that the prosecution did not disclose during discovery.
Pouland Limited is a lending company owned by Mr Smith's family.
The defence argued the lack of disclosure may mean constitutional provisions on fairness may have been breached. Jamaican Queen Counsel Keith Knight emphasized that prosecution––which he said includes police investigators––were obligated to turn over all documents, no matter their perceived benefit.
Prosecutors, after inquiring during a short break about whether the documents were given to the police, reported that investigators said they were never in receipt of the documents.
Mr Knight argued that if so, this meant Mrs Hanna's credibility is destroyed.
"If she is lying that she gave police the documents," he said, "her credibility is shattered. She becomes a female humpty-dumpty that cannot be put back together."
"If on such a material particular she lies to the court then she has rendered herself manifestly unreliable."
On the other hand, Mr Knight said if the documents were shown to police as Mrs Hanna claimed, its lack of disclosure puts the defence at a disadvantage.
He said the documents she claimed to give police could be the same Pouland Limited documents he showed her on Thursday.
Those documents allegedly contained her signature and the signature of her son, Adrian Hanna. However, when asked about the matter, she said Thursday she did not recognize the signature purporting to be that of her son.
Had the document emanated from the prosecution as opposed to the defence, Mr Knight argued, she would not have been in a position to deny knowledge of its elements without facing pushback during cross-examination.
Mr Knight laid out a framework for a no case submission.
However, Chief Magistrate Joyann Ferguson Pratt said she didn't feel "legally emboldened to discontinue proceedings" in the trial for she found his argument "premature at the juncture." She said the argument ought not be raised "before prosecution makes its case."
At one point, after admitting that she owed money to FINCO while she was paying Mr Smith $5000, Mrs Hanna said in response to a question that police, during their investigation, never asked her for information related to her bank account.
Mr Knight said: "A part of my defence is the shoddiness of the investigative process. I'm not hiding anything."
Mrs Hanna admitted taking out two separate loans from Mr Smith's company, one before she started paying him $5,000 a month and one after she began doing so.
She testified that because of paying expenses related to the Public Hospital Authority (PHA) contract she received as well as $5,000 per month to Mr Smith, she received "no salary" associated with the contract.
"All these people to pay and you are getting nothing from it?" Mr Knight asked. "You never said to (Philip Brave) Davis, 'I get the contract but I have to be paying $5,000 a month?"
She replied: "Why should I go to Mr Davis? If I did it I would have lost the contract. The employees would have lost their jobs. I was helping them to ensure they were getting employed."
It was then Mrs Hanna admitted she had "other contracts and was surviving" based on her revenue from those, a fact she said she didn't tell police investigators.
Earlier Friday Mrs Hanna admitted under cross-examination to calling Mr Smith and warning him that he was being targeted.
"Did you on occasion" Mr Knight asked, "call him and say, 'be careful, be careful, they out to get you?"
"Yes I did," she said.
"Did you," Mr Knight asked, "refer to politicians and police or one of them?"
The witness said she was not referring to either one, but did not clarify who she meant.
The trial was adjourned to December 20th.