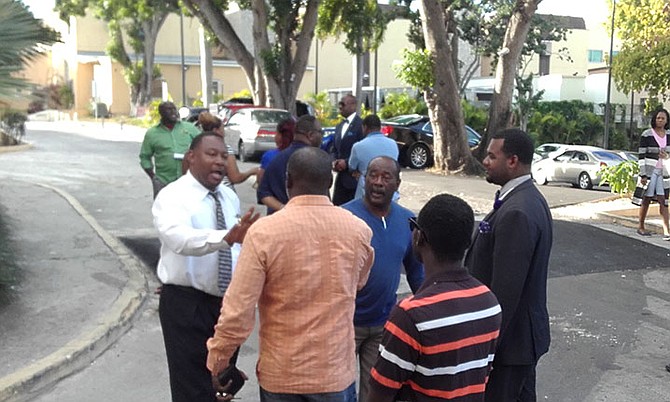 By RICARDO WELLS
Tribune Staff Reporter
rwells@tribunemedia.net
FUNERAL directors staged a major protest outside the Princess Margaret Hospital's Morgue Department Friday, after taking issue with several fee increases levied on their services without adequate consultation.
The action, carried out by about a dozen morticians, demanded that the government step in, address shortcomings, re-evaluate the fee structure and clarify true industry standards, or face the nightmare of their businesses withholding services for the foreseeable future.
According to the group that gathered at the Princess Margaret Hospital (PMH) shortly after 3pm Friday, operators received a notice almost a month ago that indicated that the Public Hospitals Authority would be increasing storage fees for remains not collected on time.
However, when several operators came to the facility Friday to retrieve remains they were contracted for collection, they were greeted with an entirely new fee structure that included rate hikes and new taxes for autopsies; none of which, they say, they were consulted on or agreed to.
Sources suggested to The Tribune that bodies undergoing private autopsies would now incur between a $500 and $700 charge. Additionally, autopsies of any remains collected from wards at the hospital would incur fees ranging from $250 to $350.
Moreover, the new fee structure called for a $100 handling fee for all remains and a $50, per day, late fee for any remains not collected on time.
The new fee schedule also came with the stern warning that no remains would be released if all fees were not paid in full.
In an interview with reporters at PMH Friday, Denalee Penn, Director of Evergreen Mortuary, stated: "We are not going to be removing any bodies out of the morgue until we are met with, until we can resolve (our issues) and until we are respected. We are not respected."
She added: "They just shove things in our mouth and expect for us to swallow it; that is not right. There is proper protocol. There is a way to handle things and we feel like we are being mishandled.
"$100 on each body. For the posted cases it is $350 for adults, $250 for babies, and these are fees that families will have to pay. Not us. I think it is wrong. People sometimes cannot even pay for their own funerals and their burial and now you want to add these fees?"
Kenneth Clark, Director of Clark's Home and Crematorium with his wife Stephanie, said he was already trying to manage a case in which the new fee schedule prevented a long overdue burial.
He presented the case of a young mother who had contracted him to prepare the remains of her twin daughters who had died at birth last month.
Mr Clark said that the mother, who has already waited through a 16-day autopsy ordeal, was finally set to receive the remains of her daughters on Friday, but was hit with a surprising $215 charge that needed to be paid before any releases were granted.
Those releases never came.
"No remorse," is how Mr Clark summed it up.
Meanwhile his wife added: "The families are already paying VAT for burial, in my opinion this is a double whammy on the Bahamian public to bury your loved one. The masses of our country are the poor, and if we are going to add another tax to the poor people, I don't think it is fair."
Sunrise Mortuary Director, Pedro Moss further expanded on the issues at PMH's morgue, asserting: "You cannot implement a fee and the morticians are not privy to it and once we come to collect a body, there is a fee that has to be met the day before a body is (released). We have problems and we say this to families often, 'We have to have all our documentation in place and the morgue closes at 2:30 – in the middle of the day.'"
Speaking directly to the government, Mr Moss demanded the Minnis administration adhere to its campaign slogan and act as if it is truly the "people's time."
He said the industry needed an immediate intervention and could not effectively go on if no changes are made.
Shortly after their protest action Friday, operators were invited into a meeting with hospital officials with a view to addressing their issues.
However, hospital officials did not comment on the matter up to press time.