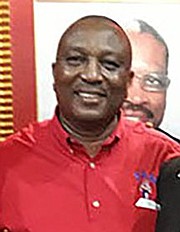 By SANCHESKA DORSETT
Tribune Staff Reporter
sdorsett@tribunemedia.net
THE Grand Bahama (Port Area) Tax Exemptions Bill will create "additional jobs" for Grand Bahamians as well as well as "remove stumbling blocks for local businesses," according to Free National Movement (FNM) Chairman Carl Culmer.
Mr Culmer said the tax exemptions bill along with the Commercial Enterprises Bill "will encourage specialised investment in the Bahamas while bringing job security and higher paying jobs to our people," especially in Grand Bahama which needs an "economic boost."
The Grand Bahama (Port Area) Extension of Tax Exemptions Bill 2017 revokes the Grand Bahama (Port Area) Investment Incentives Regulations 2016. The new bill no longer requires licencees of the Grand Bahama Port Authority to apply to the central government to receive any concessions.
The 2016 act was passed under the former PLP administration and was criticised as being bad for business. Before the May 2017 general election, the FNM promised to repeal and replace it.
"Next week the government will continue to put the economy front and centre by ensuring that the Bahamian economy is working for the people of our country again. The Grand Bahama (Port Area) Tax Exemptions Bill extends duty and tax exemptions to all licensees of the Grand Bahama Port Authority Ltd while removing stumbling blocks for local businesses," Mr Culmer said in statement.
"This bill removes the added layer of bureaucracy for Grand Bahama businesses thus allowing them to expand and thereby creating additional job opportunities for the people of Grand Bahama. It removes the discriminatory practices among licensees enacted by the former government and levels the playing field for all. While our economy is starting to take a turn for the better, the government will remain focused on ensuring that we create an environment that encourages positive investment that are a good fit for the Bahamian economy and that provides high paying jobs and long- term job security. We remain committed to providing Bahamians with the same opportunities that are provided to others, to make investments in their own economy."
Mr Culmer said the tax exemptions bill will also assist in economic recovery and "will also add transparency to the investment process, allowing the Bahamian people to know what their government is doing with their money."
"This job creation legislation will establish the Port Area Investments Board. Members of this board will be appointed jointly by the government and business leaders in Grand Bahama to ensure that there will be none of the back room deals that the previous PLP government allowed," the statement said.
"As our government continues to move towards creating an economy that benefits all Bahamians, we will work diligently to enact legislation that will create higher paying jobs for Bahamians, while at the same time creating the environment that will lead to job security and prosperity for all. The people deserve nothing less from their government and we will work hard every-day to deliver on this commitment to them."
The House of Assembly has not begun debate on the tax exemptions bill.
More like this story