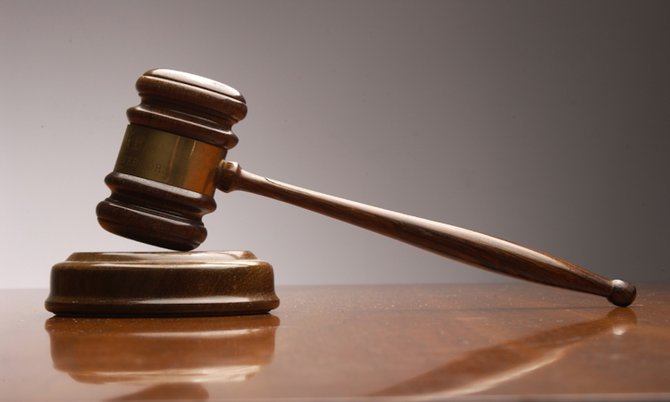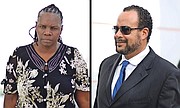 By NICO SCAVELLA
Tribune Staff Reporter
nscavella@tribunemedia.net
THE chief magistrate yesterday said she was "concerned" about the complainant in former PLP Senator Frank Smith's bribery and extortion trial after she suffered an apparent meltdown and expressed frustration over her involvement in the matter.
Barbara Hanna, while in the witness box before Chief Magistrate Joyann Ferguson-Pratt, took a seat and remained unresponsive for at least five minutes after repeatedly telling defence attorney Keith Knight, QC, she did not "feel good" and was too "frustrated" to answer any more of his questions.
Despite repeated attempts by the judge to address Ms Hanna, there was no response from the witness, who was leaning forward to rest on the witness stand. An officer standing nearby Ms Hanna had to inform the chief magistrate the witness was "venting".
Ms Hanna later complained that she had a headache.
Her apparent meltdown came after she confirmed she was borrowing money from Pouland Limited, a lending company said to be owned by Smith, at the same time she was allegedly making $5,000 monthly payments to the former Public Hospitals Authority (PHA) chairman.
Former Prime Minister Perry Christie, former Education Minister Jerome Fitzgerald and former PLP Chairman Bradley Roberts attended Thursday's proceedings, which marked day two of the trial.
Before that admission concerning Pouland Limited, Ms Hanna was shown documents that contained two separate cheques made out in her name in the amount of $5,000 each, both of which she confirmed.
Despite adamant objection by the Crown to his use of those and various documents to conduct his cross-examination, Mr Knight explained to the court that in doing so he was seeking to prove it was improbable for what Ms Hanna said took place to have occurred, and that it was impossible for Ms Hanna to have made the $5,000 monthly payments to Smith given her personal and/or financial circumstances at the time.
Mr Knight submitted that he was thus seeking to prove that she had no disposable income to use to pay Smith, and ultimately was aiming to verify whether the Crown can prove all of the essential elements of the case.
Following a lunch adjournment, Mr Knight resumed the task of interrogating Ms Hanna on the particulars of various documents, and particularly the signatures affixed to them.
One document he presented to her contained her signature, which she acknowledged, as well as the name Adrian Hanna, which she confirmed is the name of her son. However, Ms Hanna said while she accepted that her signature was on the document, she could not recognise the signature purported to be that of her son.
Ms Hanna further charged that she never co-signed on a loan with her son, and that her son and "someone else" got a loan. When asked if she ever recommended her son for a loan, she replied by saying the opposite was true, that he recommended her.
Mr Knight then asked Ms Hanna if she ever wrote a letter to "whom it may concern" on her son's behalf as an employee at her company, Magic Touch Cleaning Company, to which she answered "yes"cczaa1. A document was subsequently submitted into evidence, which was written under the head of Magic Touch Cleaning Company, signed by Ms Hanna in reference to her son.
When probed by Mr Knight, Ms Hanna confirmed that the document was indeed in reference to her son; that it identified her son as a part-time worker at her company; and that it showed her son earned a weekly salary of $350 per week. When asked why she wrote the letter, Ms Hanna said she did so because he asked her for a job letter. 
However, it was when Ms Hanna was probed about the Finance Corporation of the Bahamas Limited (FINCO), and specifically an individual by the name of Edgar David Hanna, that she suffered her apparent meltdown.
After initially responding to the question about Edgar Hanna by saying she doesn't recall, which in turn elicited astonishment from Mr Knight and him repeating the question, she responded by repeatedly saying she was "frustrated" and that as a result she would not be able to answer the way he and the court would like her to answer.
After repeatedly saying she was "frustrated," Mr Knight asked her if she would like some water, to which she refused. Apparently overwhelmed with frustration, Ms Hanna then took a seat and stayed seated for at least five minutes in silence. She did not respond when the chief magistrate called her name. She later said her head was hurting.
After expressing her concern for Ms Hanna's actions, Chief Magistrate Ferguson-Pratt submitted to counsel that it would be best to adjourn the matter.
The trial continues today at 12.
Smith is on trial over allegations he solicited $65,000 in bribes from a woman he is said to have assisted in getting a contract.
It is alleged Smith, between April 2016 and April 2017, in respect of his duties as a public officer, demanded and obtained $5,000 per month from Mrs Hanna, knowing he was not lawfully authorised to do so.
Smith is also alleged to have attempted to extort another $5,000 from Ms Hanna in May of this year. Concerning the bribery charge, it is alleged he solicited $5,000 a month from Ms Hanna for aiding her in getting a contract with PHA, where he formerly served as chairman.
Smith pleaded not guilty to all of the allegations during his arraignment.
During day one of the trial Ms Hanna told the court that Smith asked her for $5,000 a month after she received a government contract to clean the Critical Care Block (CCB) at the Princess Margaret Hospital (PMH).
She said within a week of being awarded a one-year, $500k plus contract in 2016, she spoke to Smith who told her she had to give him $5,000. Believing it to be a one-time payment, Ms Hanna said she obliged and gave him the money. Upon doing so, however, she said she was told she had to make monthly payments in that amount.
During the first day of trial, Ms Hanna also told the court she feels like she is being "used" to testify in the matter. She said while she cannot say exactly who is using her, she feels she is at a "disadvantage" by testifying in the trial.
She also expressed her disdain for being involved in the matter by repeatedly saying "I don't want to be here" while seated in the witness box. She stressed that she was not the one who pursued the charges against Smith, and did not go to the police willingly concerning the initial investigation.
Ms Hanna also said she felt "frustrated" and "uncomfortable" by the many calls she received from police requesting she come in for questioning concerning Smith's charges. And although she said she ultimately went to police, she admitted while being cross-examined by an attorney for the accused that she felt pressured to do so.