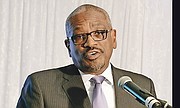 By DENISE MAYCOCK
Tribune Freeport Reporter
dmaycock@tribunemedia.net
PRIME Minister Dr Hubert Minnis signed a contract for the introduction of the second ship to Bahamas Paradise Cruise Line, the mv Grand Classica, which will commence cruises to Grand Bahama in April 2018. It was also announced that the mv Grand Celebration will resume cruises to Freeport from December 23.
Dr Minnis had indicated the return of the cruise ship is "very vital" to Grand Bahama. The prime minister and Oneil Khosa, CEO of Bahamas Paradise Cruise Line, operators of mv Grand Celebration and mv Grand Classica, has agreed to a three-year contract for terms and conditions associated with mv Grand Classica. During the signing held in the Manor House at the Grand Lucayan Resort on Saturday, November 25, the prime minister stated that the contract signing is an indication of BPCL's confidence and commitment to Grand Bahama. "They are obviously showing great support in Grand Bahama, and in the economy going to the extent of launching another vessel in April – that shows great confidence in our Bahamas," he said.
In reaching an agreement with Celebration, Minister of State for Grand Bahama Kwasi Thompson revealed the contract calls for three conditions. He said these include the use of Bahamian businesses and products by Celebration; the employment of Bahamians on the Celebration, and the second cruise ship to commence service in April; and the funding by Celebration for the training of Bahamians to be employed on the vessels. He urged Bahamians to ready themselves for job opportunities which will come as a result of the signing.
Mr Khosa said the mv Grand Celebration would resume service to the island on December 24, with the second ship, the 700-room Grand Classica beginning operations in mid-April 2018. He said BPCL is pleased to be returning to Grand Bahama. He noted the company has been operating in the Bahamas for the past 12 years – six to seven years in New Providence, and the last five years in Grand Bahama. Mr Khosa said the cruise had brought over one million visitors to Grand Bahama. "We believe we have been a significant provider of tourism in Grand Bahama, and now we will have one ship in Grand Bahama every day," he said. He also noted the Celebration had accommodated 20,000 Bahamians through subsidized fares on its ship last year.
Dr Minnis thanked Mr Khosa and Bahamas Paradise Cruise for their continued commitment to Grand Bahama. "They have demonstrated themselves to be great and excellent corporate partners, and I am certain they will remain partners with Grand Bahamians involving them in their Celebration entity," he said. Dr Minnis said he would be back in Grand Bahama soon to witness the signing of other big contracts and commitments. He is confident that "Grand Bahama will rise again".
Dr Minnis said: "It is essential for us to focus all our energies on Grand Bahama to ensure the success of Grand Bahama because the success of Grand Bahama means the success of the entire Bahamas," he said. "What we see today is something good for Grand Bahama and something great for The Bahamas."