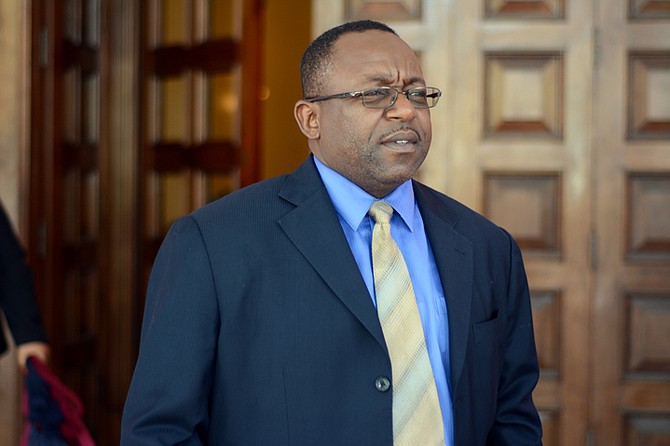 By AVA TURNQUEST
Tribune Chief Reporter
aturnquest@tribunemedia.net
THE Coalition to Protect Clifton Bay has filed a bankruptcy petition against attorney Keod Smith in the Supreme Court over some $300,000 in unpaid legal debts.
The Coalition, since renamed Save The Bays, is requesting a receiving order be placed on Mr Smith's estate.
Mr Smith is a former Progressive Liberal Party MP, and former attorney for controversial Canadian fashion designer Peter Nygard.
In an affidavit supporting the petition, STB Chairman Joseph Darville alleged Mr Smith committed an act of bankruptcy by failing to pay his legal debts within the last six months. Mr Darville further claimed Mr Smith failed to secure or compound the debt after he was served three separate summons on September 21, 2016; June 13, 2017, and by substituted service on June 20.
According to Mr Darville's affidavit, the first sum owed totals $111,500, with a 6.75 percent annual interest from October 7, 2014, until fully paid. The second sum is $263,500, with an annual interest from December 16, 2014, until fully paid.
Mr Smith's debts stem from a judicial review application filed by Save The Bays, which is challenging an application by controversial Canadian fashion designer Peter Nygard to further develop his Mayan-themed development in Lyford Cay and gain a lease for Crown land reclaimed from the sea without official approval.
The environmental group has four sets of judicial review proceedings in relation to alleged unauthorised construction and Crown land reclamation activities of Mr Nygard at Nygard Cay, and the failure of the former Progressive Liberal Party government to take appropriate action, including the prime minister, deputy prime minister, the Town Planning Committee, the director of physical planning and others.
Several STB directors and a local pastor also filed a murder-for-hire and harassment lawsuit against Mr Nygard and Mr Smith last year, accusing the men of hiring criminals to stage several hate rallies and commit such criminal acts as arson and harassment.
The murder-for-hire scheme was allegedly directed at STB directors, attorney Fred Smith and Lyford Cay billionaire Louis Bacon - who is also Mr Nygard's neighbour.
The other directors, inclusive of Environment Minister Romauld Ferreira, and local pastor C B Moss, who is not a part of STB, allegedly received death threats and other forms of harassment such as arson and slashed car tyres.