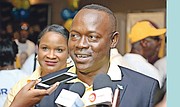 By RICARDO WELLS
Tribune Staff Reporter
rwells@tribunemedia.net
PROGRESSIVE Liberal Party Deputy Leader Chester Cooper has accused members of the Minnis administration of making "it up as they go along" regarding the controversial Commercial Enterprises Bill.
His comments came after recent remarks made by Attorney General Carl Bethel and Trade and Industry Minister Brent Symonette about the bill.
In an interview with The Tribune on Sunday, Mr Cooper cautioned Bahamians to believe only what is written in the bill to date, and not be misguided by the public utterances made by persons in the Minnis administration.
Last Thursday, Attorney General Carl Bethel, while appearing as a guest on 'The Revolution' with Juan McCartney, indicated that for every foreigner given a work permit under the Commercial Enterprises Bill, a Bahamian must be trained for that position within a year.
Mr Bethel said training and building opportunities may be agreed to be afforded to Bahamians in respect to a position staffed by work permit holders.
Meanwhile on Friday, Trade and Industry Minister Brent Symonette stressed that the bill would only address operations in a set schedule of industries.
In response Sunday, Mr Cooper said the bill approved by the House of Assembly doesn't support the claims of Mr Bethel, nor does it mesh with the sentiments of Mr Symonette.
"All I am saying is that unless the bill specifies, I am not just prepared to accept what any minister say. For example, one of them said it's designed to create an over-the-hill free zone. This was clearly not the intent of this legislation.
"They cannot make it up as they go along," Mr Cooper told The Tribune.
He added: "The bill is already passed by the House of Assembly. My presentation was made before the bill was passed. If they have amendments they can still make them but their verbal explanations cannot be considered the law if the bill is passed."
During initial debate on the Commercial Enterprises Bill, Mr Cooper accused the Ministry of Financial Services, Trade and Industry of attempting to "carve-out" particular operations to suit a certain purpose at the expense of existing government machinery.
The Exuma and Ragged Island MP argued that various units were already in place to carry out all operations sanctioned by the new legislation, adding that this fact, paired with the immigration fears and the low buy-in threshold, all gave cause for concern.
"Sectors such as international arbitrage, computer programming, software design, bio-informatics, maritime trade, nanotechnology – is there a plan in place to get more Bahamians involved in these industries? Now that we have identified them, I trust that we do more in terms of offering scholarships," Mr Cooper had said previously.
"Are we encouraging Bahamians to get into these industries that are under-served, where we may not have a competitive advantage?
"I do not have a xenophobic bone in my body, Mr Speaker, but we should always seek to level the playing field for Bahamians. I invite the government to look very closely at the schedule one; there is a lot of devil in the detail."
Once passed, the bill would allow foreigners or Bahamians to receive "economic concessions" if they establish specified types of businesses in the Bahamas with an investment of no less than $250,000. According to Mr Bethel, an amendment has been made to remove the $250,000 investment threshold for Bahamians to take advantage of the bill's concessions.
Such businesses would be entitled to a specified number of work permits for executives, managers and people with "specialised knowledge."
Mr Symonette on Friday also said he doesn't expect any more changes to be made to the bill moving forward, calling the legislation "very specified" and "clear."
He also indicated Cabinet was expected to meet Saturday to further review the level of ease Bahamians face in doing business across the country.
The schedule of industries that would fall under the bills parametres includes captive insurance, reinsurance, mutual fund administration, arbitration, wealth management, international trade, international arbitrage, computer programming, software design and writing, bioinformatics and analytics; maritime trade, nano technology, biomedical industries, boutique health facilities, data storage or warehousing, aviation approved maintenance operations, aviation registration and call centres.
Debate on the bill is expected to begin in the Senate today.