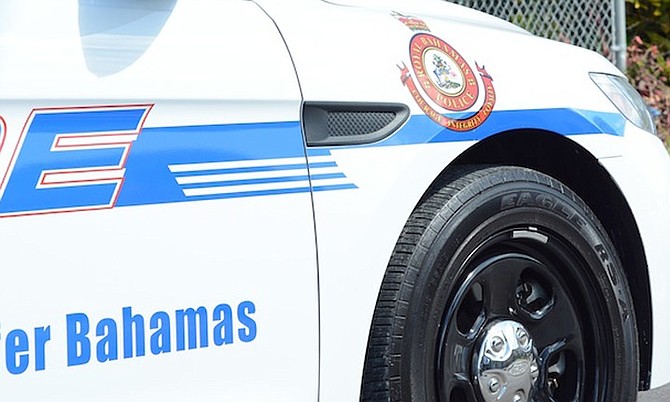 By KHRISNA RUSSELL
Deputy Chief Reporter
krussell@tribunemedia.net
TWO men died early Saturday morning after a gun battle with police and a high-speed car chase.
While police have not released the identities of the men, The Tribune understands they are Harold Kevin Brown and Richard "Buddy" Bastian.
According to police reports, shortly after 1am on Saturday morning, police in the area of a bar on Tonique Williams Darling Highway saw two men standing near a silver coloured car engaging in an argument with other people.
Police said: "One of the men who was in possession of a firearm, pointed it in the direction of the persons gathered and fired a shot. Officers fearful for their lives and the lives of others nearby engaged the men, who got into the vehicle and sped off.
"The officers pursued the vehicle, which crashed a short distance away. The men were ejected from the vehicle. It was at this time that officers discovered that the men were shot," police said.
One suspect died on the scene, while the other was taken to the hospital where he later died, police said.
A shotgun was recovered from the vehicle.
Authorities said Coroner Jeanine Weech-Gomez visited the scene and is investigating this incident.
Meanwhile on Saturday police arrested four men and one woman in two separate incidents for possession of illegal firearms and ammunition.
In the first incident, shortly after midnight, South Central Division officers were on routine patrol in the Chippingham area when they saw a group of men standing in front of a local bar.
Two of the men began acting suspiciously. They were then searched and found to be in possession of a handgun and four rounds of ammunition along with a shotgun.
They were then taken into custody.
The second incident happened at around 2am when officers, acting on information, conducted a search of a home in Yellow Elder Gardens. They removed a 9mm pistol and two rounds of ammunition form the home.
Two men and one woman were arrested.
Police reported that there were two armed robberies yesterday, the first of a security guard in a car park at a church in Pinewood Gardens in the morning.
The second robbery was at a fast food outlet at the Mall at Marathon.
Anyone with information is asked to contact police at 919 or Crime Stoppers at 328-TIPS (8477) in New Providence or 1-242-300-8476 in the Family Islands.