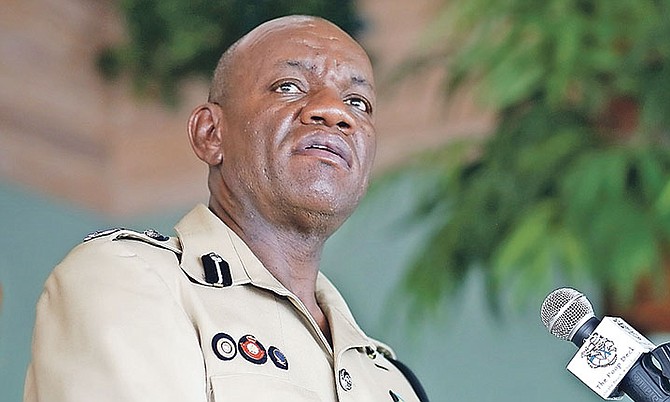 By MORGAN ADDERLEY
SENIOR Assistant Commissioner of Police Stephen Dean attributes the recent downward trend in crime to the "grace of God" and the new crime-fighting initiatives of the Royal Bahamas Police Force. 
During a press conference held yesterday at RBPF headquarters, Senior ACP Dean was asked which strategies have played a factor in the fact that there was only one murder in November.
He said: "I will say something first what is unpopular. I think God is with us in the country… the grace of God, I think, has helped us with this crime. But more importantly, He has inspired some of us to use some initiatives.
"I can tell you since our creation of the Anti-Gang and Firearms Unit, we have seen some inroads because they had specific assignments to target some self-proclaimed gang leaders and gang members or persons who are known to be involved in trafficking of firearms and armed robberies. We have been targeting these persons, paying some attention to them, using all of our resources in their direction.
"You have seen some of the results. And we have intentionally floated out to media the firearms that we've recovered, the high-powered weapons that we have seen. And so we have a lot of ongoing investigations of a number of persons. It wouldn't be surprising that you will see a number of persons being hauled before the courts or being brought into police custody for firearms trafficking. So we are doing a number of work around all these areas…You see a number of police operations are going on, (we are increasing) our operations— day, night, weekly, around the clock.
"So we feel that based on the strategy that we have put in place, based on the plans laid by this commissioner… we've been able to reap some dividends. But we are not resting on our laurels. That is why we are speaking on crime prevention today… we don't want to brag, but if we see that you are doing a good job, you are doing a good job. And I think that things are working. We see the statistics— and they don't lie. Things are trending downward.
"We hope that we can hold the homicides, and go into 2018 looking how we are leaving (2017). And we feel good about the prospects for next year… It looks good, based on the strategies that we have in place."
Minister of National Security Marvin Dames and Prime Minister Dr Hubert Minnis have both recently said overall crime is trending down. Despite frequent police reports of shootings and armed robberies, only one homicide was recorded in November – an anomaly this year. However, murders are up overall by 17 percent, according to The Tribune's records. Up to press time, there were 118 murders so far this year compared with 101 as of December 4, 2016, according to this newspaper's records. 
Senior ACP Dean added: "But what we see increasingly more is the involvement of the Bahamian public. The calls that come in, the tips that come in, that is helping us round the clock. We are getting the calls… that [are] helping so we are able to close up some cases. Those tips are helping to put the puzzles together.
"Even with the CrimeStoppers (hotline), we are getting anonymous calls running to CrimeStoppers, that is helping us. But behind the scenes, I'm (going to) tell you, the best defence we can get is from the Bahamian public. When they give us the support telling us where the firearms are, who the traffickers are, who is involved in drugs. So a number of things are happening on the road to contribute to what we're talking about."
Last month, during a presentation to the Rotary Club of West Nassau, Senior ACP Dean outlined six police strategies or initiatives that the RBPF has implemented to enhance its crime-fighting capabilities. These include the Anti-Gang and Firearms Unit, the Flying Squad, the Rapid Response Unit, the Anti-Corruption Unit, Enhanced Ballistic Capabilities, and the use of an eTrace system to track the sale and origin of weapons.
Anyone with information related to a crime is asked to call police at 919 or CrimeStoppers at 328-TIPS (8477) on New Providence or 1-242-300-8476 (Family Islands).
More like this story