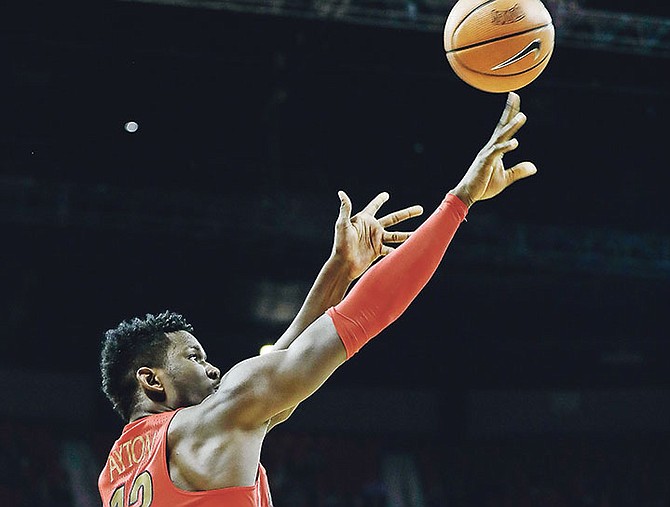 By RENALDO DORSETT
Tribune Sports Reporter
rdorsett@tribunemedia.net
A matchup between two of the top big men in all of NCAA Division I basketball - Arizona's DeAndre Ayton and UNLV's Brand McCoy produced in an overtime thriller.
In the end, Ayton and the Wildcats scored a 91-88 win over the UNLV Runnin' Rebels Saturday night at the Thomas and Mack Center in Las Vegas, Nevada.
Ayton finished with a season-high 28 points, 10 rebounds and tied a season high with three blocked shots while McCoy also had a season-high with 33 points and 10 rebounds.
Arizona improved to 5-3 following its three-game losing streak at the Battle 4 Atlantis and UNLV fell to 6-2.
Ayton came into the game as one of just seven players in the nation averaging at least 15 points and 10 rebounds per game, while shooting 60 percent or better from the field. He is also one of just two freshmen in college basketball with the feat, along with McCoy.
Both players average just over 20 points and 11 rebounds per game.
Ayton said the team was able to overcome a slow start but lauded the environment on the road in Las Vegas.
"The first half we were in a little slump with our shooting, but in the second half we really broke out, driving, getting fouls, shooting at the line, and getting rhythm shots," Ayton said. "But that environment is the craziest environment I've ever played in. I couldn't even hear myself, I lost my voice. This is a great environment to play in."
"You don't often see two freshman big guys go at like like Deandre and Brandon McCoy," Wildcats head coach Sean Miller said.
UNLV opened the game making 6 -11 shots from the field early in the first half, while Arizona struggled shooting from the field at 4-18. UNLV led 41-30 at the half on 57 percent shooting and outrebounding Arizona, 24-16. The Wildcats shots just 30 percent in the first half en route to the deficit.
It was a complete turnaround in the second half as the Wildcats came out of the locker room on fire and hit three three-pointers during a 13-8 run that trimmed into UNLV's lead, making it 49-43 less than four minutes into the second half. Arizona shot 62 percent in the second half.
Allonzo Trier scored eight of his game-high 29 points in overtime while Parker Jackson-Cartwright was the only other Wildcats in double figures with 12.
"We just settled in in the second half I think in the first half we had a deer in the headlights feel a little bit," Miller said, "We have two offensive players that are really good I think our team will learn over time how to utilise those two guys and bring out the best in them because both of those guys make it easier for the rest of the team but that is up to us as a coaching staff to figure out."
Arizona will face it's first top 25 team since they plummeted out of the rankings when they take on No.9 Texas A and M Tuesday night at the Valley of the Sun Shootout in Phoenix, Arizona.
More like this story