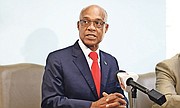 By MORGAN ADDERLEY
EDUCATION Minister Jeff Lloyd is conducting a "fact-finding mission" in Barbados on early childhood education, Press Secretary Anthony Newbold said during yesterday's press briefing.
Pre-school education is a major focus for the Minnis administration. In August, Mr Lloyd established a connection between the national "D" BGCSE average and the lack of emphasis on pre-school education. According to Mr Lloyd, more than half of the country's pre-schoolers are not enrolled in school before grade one, with only 550 pre-schoolers currently registered in the public system.
"In keeping with the government's mandate to expand pre-school education in The Bahamas, (Mr Lloyd) is conducting a fact-finding mission on early childhood education in Barbados," from December 5-6, Mr Newbold said.
"These preliminary meetings will allow the minister to engage the Barbadian minister of education and his team in discussions relative to early childhood education.
"We have some quite capable people in The Bahamas associated and focused on early childhood education, but Barbados has gotten a reputation for being pretty good in the field of pre-school education. So, the minister is conducting that fact-finding tour."
In August, while speaking at the Teachers' Enrichment Day at the Jack Hayward High School in Grand Bahama, Mr Lloyd referred to a study by the Inter-American Development Bank on education. According to Mr Lloyd, the report found that the Latin American and Caribbean region invests far less on pre-school education about $500 per child, by comparison to $3,500 per child in primary school education.
"We are failing our society," said Mr Lloyd at the time. He added that this year, "great emphasis" will be placed on two-and-a-half and three-year-olds.
Reporting that less than half of the nation's pre-schoolers are in an appropriate programme, the minister said: "We are setting up ourselves for catastrophic failure if we do not address that."
At this event, Mr Lloyd also said that when resources permit the Ministry of Education is going to mandate that all two-and-a half and three-year-olds must be in a ministry approved school.
In November, Mr Lloyd reiterated this stance while attending the 39th annual UNESCO conference in Paris, France. He said: "(The Bahamas is) shifting (its) policies from focusing exclusively on universal primary and secondary education to one that promotes lifelong learning, especially with a particular emphasis on early childhood and pre-school education."
Accordingly, on Monday Prime Minister Dr Hubert Minnis launched his administration's eLearning Project at the Willard Patton Pre-School. Dr Minnis said: "This pilot eLearning Project was designed to involve ten public pre-schools, five of which are in New Providence and five in the Family Islands.
"The project is part of on-going efforts for education reform, including through the use of technology and experience-based education," Dr Minnis said.
During yesterday's press briefing, Mr Newbold also said that as chair of the Organisation of American States (OAS) Inter-American Committee on Education (CIE), Mr Lloyd will also be attending the 20th Inter-American Conference of Ministers of Labour while in Bridgetown, Barbados.
The conference will be held on December 7-8.
Mr Newbold said the conference is "being staged to forge greater collaboration between education and labour in the OAS member states which includes Latin America, the United States, Canada and the Caribbean."
He added: "While in attendance a the conference, (Mr Lloyd) has been asked to make a presentation on the topic, 'Towards better inter-sectoral coordination between education, training, and labour, crucial to unleashing youth potential and addressing the future of work.'"
Acting Director of Education Marcellus Taylor will be accompanying Mr Lloyd on these matters as his technical advisor. Senator Dion Foulkes, minister of labour, will also attend the conference.