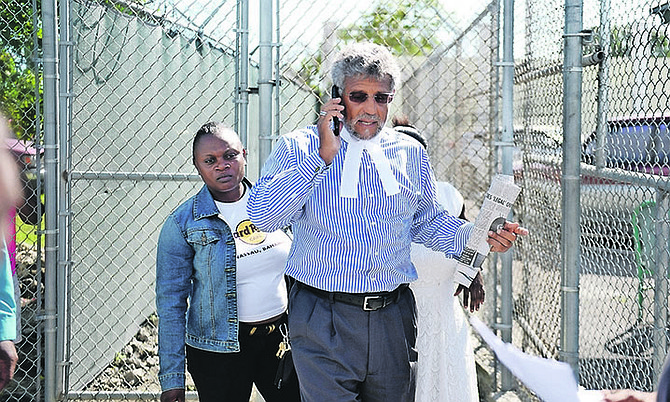 By SANCHESKA DORSETT
Tribune Staff Reporter
sdorsett@tribunemedia.net
TOP lawyers yesterday came to attorney Fred Smith's defence after he was thrown out of the Detention Centre on Monday and denied access to his client.
Minister of State of Legal Affairs Elsworth Johnson told reporters outside the House of Assembly yesterday while he does not know the details surrounding Mr Smith's incident, it is unconstitutional for a lawyer to be prevented from seeing a client.
"Having access to an attorney that is enshrined in our Constitution," the former Bar Association president said.
"It's is the basis for the rule of law and so essential to it that the Constitution accepts that the court is responsible for the protection of fundamental rights for the interpretation for all laws and the reason the Constitution sets up that right for someone to have access to a lawyer is that through that, persons are able to intelligently bring their complaints of the breach of any rights of the lawyer of their choosing through the courts or advocate for the protection of those rights," he said.
"That is the basis upon which our democracy is built. So, the right to have a lawyer is fundamental and only in extreme reasons should that be curtailed."
On Monday, Mr Smith was physically removed from the Detention Centre after he was blocked from seeing detainee Jean Rony Jean-Charles.
In an interview after the incident, Mr Smith said he went to the Detention Centre at 10am to see his client. On arrival, Mr Smith said he was given the run around after first being told to wait and then instructed to "make an appointment" at the Immigration Department on Hawkins Hill in order to see the detainee.
After exchanging words with immigration officers, Mr Smith was asked to leave the property, and after refusing, he was forcibly removed.
Videos of the altercation went viral on social media.
Bahamas Bar Association President Kahlil Parker in a letter addressed to association members, said after reviewing the footage of Mr Smith at the Detention Centre, he is requesting an investigation "forthwith".
"A detained person's constitutional right to retain, instruct, and consult an attorney of his/her own choosing without delay is a fundamental tenet of our democracy. The arbitrary abrogation of constitutional rights must be resisted with vigour," Mr Parker wrote.
"As attorneys, we are duty bound to stand in the breach for our fellow human beings and to remind those in whom we, however briefly, entrust the coercive power of the state that any person in the Commonwealth of The Bahamas enjoys certain fundamental constitutional and human rights."
On Tuesday, member of Parliament for Long Island Adrian Gibson told The Tribune he stands with Mr Smith, because he too was turned away from the Detention Centre and not allowed to see his client last year.
"I was stopped from seeing my client at the Detention Centre last year around this same time," Mr Gibson, an attorney, said.
"So I stand with Mr Smith. No one should be denied legal counsel whether they are at the prison or the Detention Centre. Everyone, whether Bahamian or illegal, is entitled to have equal access to justice and legal counsel and to be denied that is a breach of the Constitution.
Senior advocate Damian Gomez QC also defended Mr Smith.
"We live in a democracy which protects each of us whether citizens or tourists or others, from unlawful activity of the State. It is disturbing to see on social media a report that the authorities at the Detention Center prevented Mr Frederick Smith,QC from visiting a client detained at this facility," said Mr Gomez.
"All criminals and suspected criminals including illegal aliens are entitled to access to Justice which includes access to legal counsel of their choice at their expense. There are Bahamians who have been wrongfully detained at this facility. We must be vigilant to ensure that the rights of all persons are duly protected in our democracy."
On Wednesday, Immigration Director William Pratt told The Tribune an appointment is not needed to see anyone at the Detention Centre as long as the visitor shows up during visiting hours.
Government officials have also said Mr Smith's client was not at the Detention Centre when he showed up to visit him.
More like this story