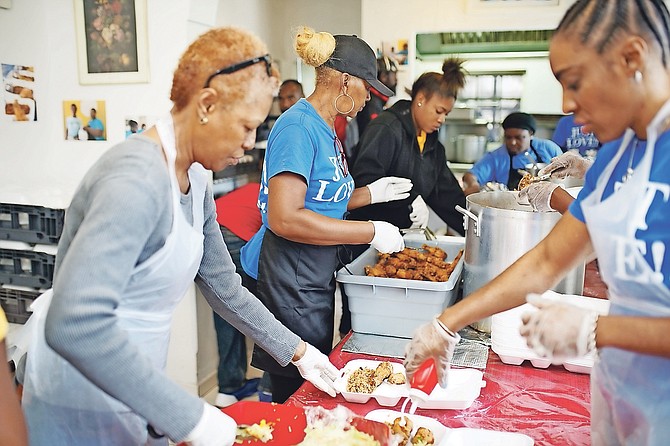 By Nico Scavella
A LOCAL charitable organisation yesterday urged Bahamians to "give a little of what we have" as it aims to honour a month-long drive to feed 5,000 families for Christmas.
Philip Smith, executive director of the Bahamas Feeding Network (BFN), urged Bahamians to "do their best" as it seeks to execute the ambitious Feed 5,000 Families initiative by December 17.
AML Foods has been the driving force in raising and has set a target of $100,000 to hel; BFN put food on the tables of families who might otherwise go hungry during the Christmas holidays.
BFN aims to provide 5,000 parcels of food complete with a picnic ham, one whole chicken, two cans of peas, two cans of vegetables, a five-pound bag of rice and a bag of stuffing.
The package will comfortably feed a family of four.
AML Foods has already pledged $20,000 to the feeding fund to jumpstart the initiative. However, Mr Smith said while the campaign to feed 5,000 families has been "going well" to date, BFN still welcomes any and all support.
"I just want everyone to just do their best to help with this needy cause," Mr Smith said. "These persons who will get these food parcels are very needy and deserving, and we feel that no one should go hungry at Christmas."
He added: "I think we could do a lot to help with a lot of these social issues we are confronted with in the country; crime, and all the other social issues if we just give a little of what we have, our time, our talent, our treasure to helping those in need.
"And I think that could go a long way in helping the country."
The campaign started in AML Food's eight stores on November 17, allowing customers to donate $40 holiday meal packages in full or contribute to the make-up of a package at the checkout counter.
In Nassau, participating stores include Solomon's Fresh Market, Cost Right Wholesale, Solomon's Super Centre and Solomon's Yamacraw store.
In Grand Bahama, donations can be made at Solomon's locations there and Cost Right Wholesale Freeport.
Meanwhile, Aliv customers can participate by texting FEEDAML to 2648 to make a donation.
BFN's team of volunteers prepares and distributes more than 2,200 meals weekly in an ongoing campaign to help the poor and hungry. The organisation does so with the assistance of 120 various soup kitchens, churches and feedings organisations located throughout New Providence, Grand Bahama and some Family Islands.