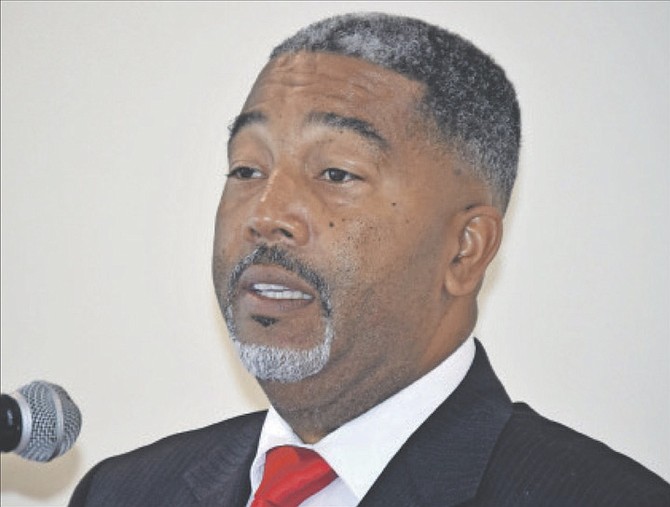 By Khrisna Russell
TRANSPORT and Local Government Minister Frankie Campbell suggested yesterday his post in Cabinet as someone with Haitian heritage has had no bearing on the influx of illegal migrants from Haiti coming into The Bahamas.
"Haitians have been coming here for years," the Southern Shores MP said when he was asked to respond to comments made by Progressive Liberal Party (PLP) Chairman Fred Mitchell who suggested Mr Campbell's descent had something to do with migrants flocking to the capital.
"If there is a suggestion that Frankie Campbell being in the Cabinet has caused that, could it be inferred that there were other persons in the Cabinet before who were of Haitian descent who might have caused it in the past?"
Meanwhile, Attorney General Carl Bethel blasted Mr Mitchell for the comments saying they were "insulting and egregious".
Mr Campbell has said in Parliament that his heritage, although he was ridiculed for it as a child, includes being born in the Bahamas to a Haitian mother and is an aspect of his life that he is not ashamed of.
"Notwithstanding (that) I am satisfied that the prime minister of the Commonwealth of the Bahamas has appointed Cabinet ministers to do the work of the people," Mr Campbell said later in his interview with reporters outside of Cabinet yesterday morning.
"I have just reported to you the work that I am doing on behalf of the people at the General Post Office, the work that I am doing on behalf of the people throughout the Family Islands trying to ensure that the mail boat services are up to par and so I just want to say to whoever thinks that these small things are going to be used as a distraction they need to find something else."
On Tuesday, the Nassau Guardian reported Mr Mitchell as saying the Minnis administration is being perceived as being soft on illegal migration because one of its ministers was not only a product of this source, but has acted as liaison between the Haitian community and the Free National Movement.
He added this signalled to Haitians that once the FNM was elected to office, the enforcement side of dealing with illegal migrants would ease.
The former immigration minister made the comments on the same day a Haitian sloop landed in southwest New Providence. This came just weeks after another Haitian sloop landed undetected in Adelaide Village.
Although Mitchell did not name Mr Campbell during his comments, it was perceived to be a reference to the minister.