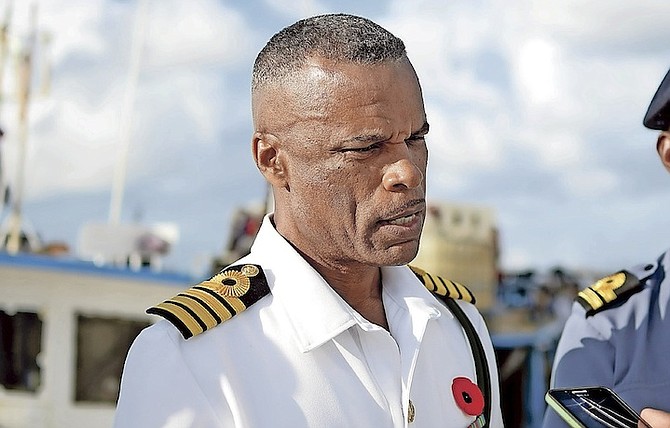 By Sancheska Dorsett
ROYAL Bahamas Defence Force (RBDF) Commodore Tellis Bethel has defended the military agency's use of a home-based company for the procurement of weapons and ammunition, saying yesterday all RBDF weapons are accounted for.
At a press conference, Commodore Bethel said the purchaser "met all the government requirements" and the RBDF has never has "any discrepancies whatsoever" with that particular purchasing agency.
The commodore was responding to findings included in an auditor general's report into the RBDF that found that a 2014 procurement exercise posed a threat to the safety and security of Bahamian borders by awarding a $1.3m contract to a home-based company that did not have the necessary approvals to import weapons from the commissioner of police.
The audit, tabled in the House of Assembly last month, also noted the "online purchasing/courier service" had been inactive for more than four years before it renewed its business licence just four months before receiving Cabinet approval on its bid; and the Customs Department could not locate two shipment entries in December 2014, and June 2015.
Commodore Bethel said the RBDF is in the process of reviewing the way "we conduct business" going forward.
"The purchaser used had met all government requirements to engage in business with the defence force and has provided services not only for the defence force but for other agencies as well and we never had any discrepancies whatsoever with that particular purchasing agency," he said.
"Also with the purchase of weapons and ammunition, there are certain state department clearances that are required that were obtained as well. Also, in the process of purchasing arms and ammunition, the purchaser himself never came into direct contact with these weapons. They are shipped from the United States direct to customs and customs would advise us upon the arrival of these weapons and ammunition. There was talks about certain invoices not being found, so we had a team work with customs and go down and find the invoices, which they did.
"There was the impression that there were weapons out there floating around which was never the case all of our weapons are accounted for. The invoices they were looking for were found at customs so everything has been verified. We are in the process of reviewing the way we do business and looking at the concerns of the people as well and then we want to chart the best course forward in respect to some of the concerns that were raised and we have to look at how we can improve what we do."
Last month, Minister of National Security Marvin Dames expressed confidence in operations at the RBDF and said the company "was not pulled out of a hat."
"You just can't go to the US and say, 'I want to buy a shipment of guns,' it doesn't work that way. There are any number of external and internal layers that prevent anyone from just walking off the streets and saying, 'give me a shipment of guns, I want to send it to another country.' We're in the business of law enforcement, there are a lot of companies that we deal with that are subjected to the toughest scrutiny because of what they deal in. I'm not too concerned that it's a home-based business," he said.
"Sometimes we have to be careful when we look at these reports that we don't draw a conclusion that the weapons are missing, the weapons are actually not missing."
Mr Dames said while he fully accepted the report, he did not find cause for alarm over its findings after a review with Commodore Bethel and Permanent Secretary in the Ministry of National Security Carl Smith.