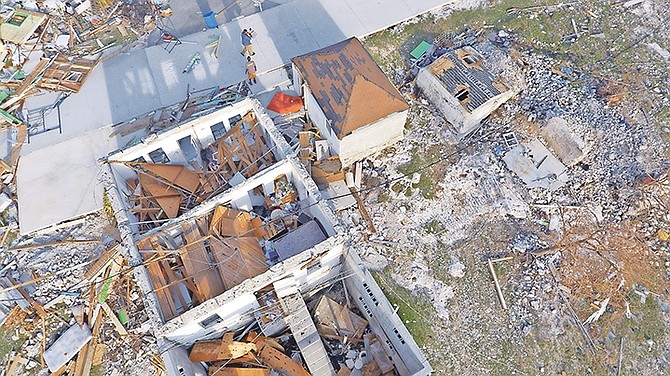 By Khrisna Russell
THE Minnis administration's proposed plan to restore hurricane-ravaged Ragged Island will cost tens of millions of dollars and currently involves the private sector along with international partners, Works Minister Desmond Bannister told reporters yesterday.
Responding to critics who insist the government is not working fast enough to restore the small island to normalcy - among them Progressive Liberal Party Deputy Leader I Chester Cooper - the minister said officials are working to ensure Ragged Island is rebuilt properly.
Last week, Mr Cooper highlighted many of the challenges present in his constituency. Government buildings are still in ruins, there is insufficient water supply and electricity issues are prevalent among other things.
Mr Cooper also lambasted Prime Minister Dr Hubert Minnis saying his promises to rebuild the island while at the same time converting it to a green island "amounted to nothing more than empty talk".
"I heard the comments by Mr Cooper," Mr Bannister said ahead of the morning session of Cabinet yesterday. "They were very unfortunate. The government has a number of private sector partners who are working with us to ensure that Ragged Island is rebuilt properly. I think all of you went to Ragged Island and you saw how the buildings were initially put up. We have to ensure that we build according to code now.
"We also are ensuring that there is amazing input and assistance to those people and so you're going to see some of the biggest companies in the world get involved in the Ragged Island project and when you see Ragged Island again in a short while it is going to be an example that we can follow for the rest of the world what we are doing down there."
Asked if there was a timeline for this work to be finished, Mr Bannister said there was not because "human factors are involved".
He added: "For example the Carbon War Room is involved. Tesla is involved. A number of things are involved that require international input and I can tell you that the people who are leading this are very, very concerned about Ragged Island, but they're also concerned that if Ragged Island is hit by another hurricane we are not going to see that kind of devastation (again)."
Earlier this month, Water and Sewerage Corporation Assistant General Manager of Family Island Operations Cyprian Gibson told The Tribune Ragged Island residents will have to wait another 90 days before water supply on the island is back to normal.
However, Ellery Lockhart, a spokesperson for a group of descendants who have banded together to get the island back to normal, claimed WSC is only generating eight gallons of water per hour every day. This, he said, is "totally inadequate" to meet the needs of the island.
But Mr Gibson said WSC is producing far more water – 700 gallons each day – which, he said, is only to meet critical needs.
The dilemma, he explained, lies in the fact the water provider's plant was completely destroyed by Irma and a temporary plant was put in while a new permanent facility is being completed. He said there are also plans to upgrade the plant for increased resiliency.
In September days after the category five storm barreled through the island, Dr Minnis said health and safety conditions in Ragged Island rendered the island unliveable.
Despite this, residents were determined to go back home immediately to rebuild despite the decimation left behind.
Chief Councillor Demison Nesbitt said at the time it was "foolishness" for anyone to consider the island uninhabitable.
Following this, Dr Minnis further outlined in Parliament his administration's plans, explaining renewable energy and smart technology from solar energy and sustainable water purification systems will be utilised for this effort with the help of residents and descendants of the island.
To further support these efforts, Dr Minnis said the government would seek not only the assistance of Bahamians, but look to international counterparts.
However, he did not reveal a cost to be associated with this undertaking, adding Minister of Finance K Peter Turnquest would offer details at a later date on the price tag of Hurricane Irma's related costs. To date, the finance minister has not revealed this element.