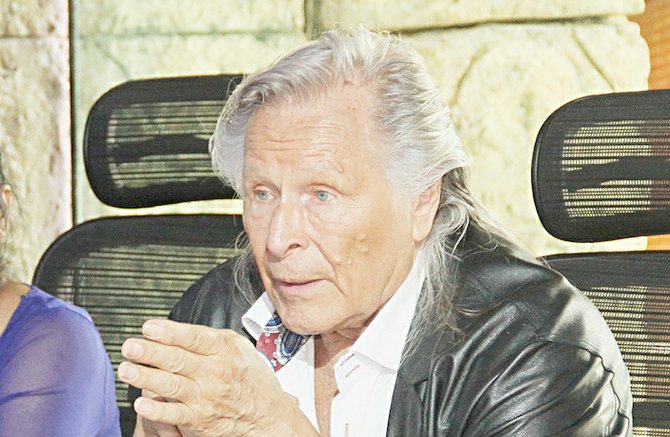 By Nico Scavella
A SUPREME Court judge has refused Canadian fashion mogul Peter Nygard's second attempt at having her recuse herself from an ongoing judicial review against him on the grounds of bias.
Justice Rhonda Bain, in a written ruling obtained by The Tribune, said Mr Nygard gave "no cogent reasons" for his claims of bias and said there is consequently "no basis" for the recusal as he previously asserted.
She added a "fair-minded and informed observer" taking into consideration all of the circumstances would not conclude the court is biased against him as he claimed.
Justice Bain further noted in her ruling the substantive matter has been delayed by the "numerous" interlocutory applications and applications for her recusal, adding this most recent ruling is the 26th to date, and that there are still approximately 20 outstanding applications in the matter.
Nonetheless, the judge noted an outstanding application for her recusal by Keod Smith, Mr Nygard's former attorney, must and will be heard before proceeding with the other outstanding interlocutory applications and the eventual hearing of the substantive application for judicial review.
Justice Bain said in her ruling: "Even though there have been other applications for recusal of the court, the court has found that these applications were groundless. Likewise, in the present application, the court finds that the grounds relied on by (Mr Nygard) in support of his claim for bias or perceived bias are groundless.
"(Mr Nygard) has not proved actual bias or apparent or perceived bias by the court."
Mr Nygard has filed two recusal applications against Justice Bain on the grounds of bias, the latter of which was launched in March of this year. His first recusal application, which ultimately failed, was filed in 2015.
Both recusal applications stem from Mr Nygard's battle with environment group Save The Bays (STB) over allegations the construction/development activities at his Lyford Cay home have led to a substantial growth of the property.
The group claims Mr Nygard has almost doubled the size of his property, from 3.25 acres to 6.1 acres, since he acquired it in 1984, by reclaiming Crown land from the sea. The advocacy group alleged Mr Nygard achieved this without the necessary permits and approvals, claims that have been denied by the fashion designer.
Last month, Justice Bain said the court would not allow Mr Nygard's "non-attendance" to his own recusal application on two consecutive occasions to "further delay" the hearing of those proceedings.
Justice Bain ruled at the time the court is not at Mr Nygard's "whim and fancy" and would hear his recusal applications in his absence.
However, Justice Bain said while she decided to treat Mr Nygard's absence as a "separate issue" from the substantive recusal motion, the court would give the Lyford Cay resident an opportunity to "show cause" of his failure to obey the court's orders to attend the recusal application hearings on both October 30 and October 31.