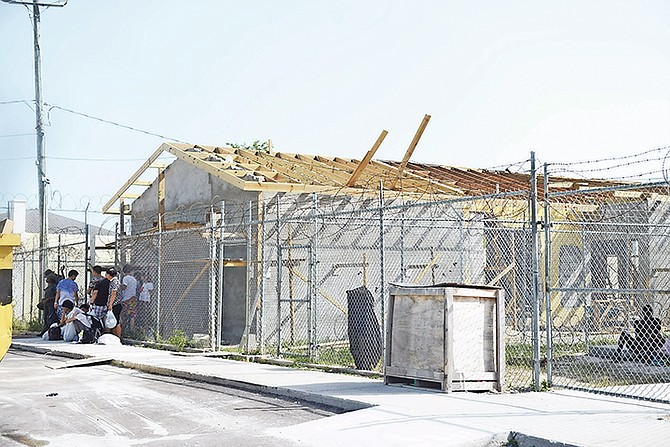 By AVA TURNQUEST
Tribune Chief Reporter
aturnquest@tribunemedia.net
THE pregnant wife of a Bahamian man is among six new people who have made habeas corpus applications, bringing the total number of people the state will have to justify detaining in immigration operations to 12.
Mirlene Corvil is two months pregnant and has been held at the Carmichael Road Detention Centre (CRDC) C since December 4, according to her supporting affidavit, which indicated fears of malnourishment and lack of access to prenatal care.
Another applicant is Kediesha Bent-John, who was arrested along with her 11-year-old child and both have been detained since December 8 at an immigration safe house for women and child migrants.
Yesterday, her tearful Bahamian husband Andrick John told The Tribune he has been under heavy emotional distress because he has not been able to see or hear from his wife or his adopted daughter since their arrest. Mr John, 41, said he was not allowed to produce any documentation to immigration officers at the time of their arrest.
Fanel Gassant has been in detention at the CRDC since November 29; however, supporting affidavits say he is married to a Bahamian woman and has an outstanding application for a spousal permit.
In the case of Earl Burton, a Jamaican who has been detained at the CRDC since August 15, it was claimed he was exposed to tuberculosis and it is unclear whether he has contracted the disease. As a result, he has been unable to meet with legal counsel.
Other applications are for mothers Gerna Jean Tinord and her 10-month-old infant, and Verante Mocombe and her one-year-old baby, who have been detained at an immigration safe house for women and child migrants since December 1 and 5 respectively.
The applications were filed by Crispin Hall Jr and Garth Philipe of Callenders & Co.
The affidavits, in separate matters, were all sworn by Callenders & Co law firm's legal assistant Wislande Geffrard, who claims their imprisonment is unconstitutional and unlawful.
The applications for habeas corpus writs were filed in the Supreme Court against the attorney general, minister of immigration, director of immigration and superintendent of the CRDC.
The government will have to prove the lawfulness of the detention of all 12 in separate cases before Supreme Court Justice Gregory Hilton on December 19.
Justice Hilton has also set an injunction against the Department of Immigration to block the agency from deporting or repatriating any of those who have filed cases.
Another high-profile habeas corpus case involves Jean Rony Jean-Charles, whose whereabouts are now the subject of court proceedings.
The Supreme Court last week gave the government until December 19 to produce Mr Jean-Charles and either provide evidence justifying his detention or be held in contempt of court.
Immigration officials have said Mr Jean-Charles has been repatriated to Haiti.