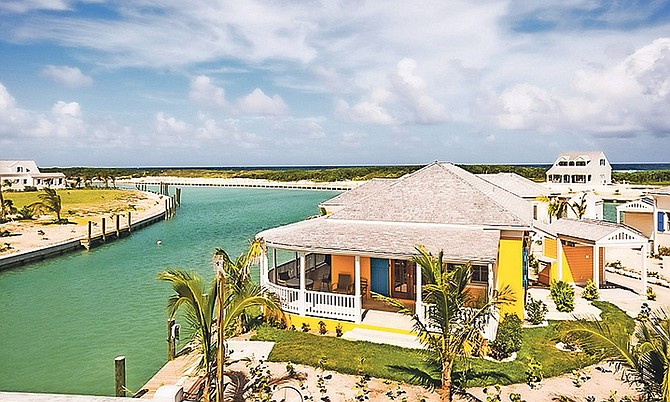 By NEIL HARTNELL
Tribune Business Editor
nhartnell@tribunemedia.net
An Abaco couple have slammed Schooner Bay's "arrogance" in evicting them from their farm in a dispute stemming from the controversial licencing of 100 Crown Land acres to a foreign developer.
Glen Kelly told Tribune Business that agents for the south Abaco project gave his wife, Tracy, just five minutes' notice that the water supply to their seven-acre hydroponic farm would be cut-off, ending a two-and-a-half year fight to remain on the property.
Their eviction, in late November, has reignited the furore surrounding whether Schooner Bay Ventures is violating its licence by evicting Bahamian entrepreneurs from Crown Land property that is supposed to be used for the "benefit" of locals.
Tribune Business, which has been conducting an in-depth investigation into multiple complaints about Schooner Bay and its operations, has obtained documents which raise serious questions as to whether the licence terms have been breached and how the Crown Land came to be licenced to the developer in the first place.
Mr Kelly, detailing the fight to save the couple's Driftwood Food Company farm, told this newspaper the business and its predecessor, Lightbourn Farms, had been attempting in vain since 2012 to obtain a formal lease for a seven-acre parcel on the Crown Land tract, which is known as 'The Commons'.
While Schooner Bay Ventures served notice of its "intention" to enter into such a lease on August 19, 2014, no such agreement was finalised. The absence of such a lease saw Lightbourn Farms withdraw in January 2015, with the Kellys taking over the business and changing its name to Driftwood Food Company.
Despite pleading with Schooner Bay Ventures for a written lease, given that this was crucial to unlocking "a fairly sizeable investment" by paving the way for duty-free tax concessions, the Kellys received an April 17, 2015, letter from the developers demanding they vacate the property within 60 days.
The couple successfully persuaded the then-Christie administration, through the Bahamas Investment Authority (BIA), to intervene, with the Abaco Chamber of Commerce subsequently attempting to mediate a solution between the parties with little success.
An uneasy 'truce' appears to have prevailed between Schooner Bay and the Kellys until late last month, when the developer cut-off the farm's water supply, resulting in the loss of about 80 percent of its existing crop.
Mr Kelly, in an interview with Tribune Business, said he was unsure what had provoked Schooner Bay's action, although it coincided with the developer's appointment of new manager/representative and sales company for the project.
"There was no notice," he said of the eviction. "My wife was at the farm harvesting for Monday delivery, and this new management company representative walked up, quite apologetically, and said they'd been directed to turn the water off. Five minutes later they did just that.
"I immediately called the Abaco Chamber of Commerce and reported it to them, and I went to my MP, James Albury, in an attempt to save the plants. That did not work. James Albury sent me to Water & Sewerage. They went by the book and said they were unable to put in a water line of 200-300 metres and a meter.
"They couldn't do that because we did not hold a lease or proper title to the land. We were back to square one; where we were before." Mr Kelly added requests for assistance from Renward Wells, minister of agriculture and marine resources, and his ministry had also failed to produce a resolution to-date.
"We've had no communication from Schooner Bay Ventures and minimal from the Government," he said last week. "They keep saying they're still actively looking into it, but the crops left there are dead, and Schooner Bay has come into other areas, taken stuff out and started cleaning up. It's not the hydroponic section, but part of the same farm."
Mr Kelly estimated the crop loss had cost the couple $20,000 alone, while the recovery of a "significant six-figure sum" invested in the hydroponic equipment and other gear was questionable at best.
Driftwood Food Company's predicament highlights how the initial plans for the 100-acre 'Commons' tract have seemingly been turned on their head, with the goal of creating a sustainable economy that has Bahamian entrepreneurs/start-ups at its centre dropped altogether.
The original 'Commons' concept, drawn up in a document obtained by Tribune Business, shows the Crown Land tract would be used as a small business 'incubator' in addition to providing farming, recreation and community facilities for the benefit of all south Abaco - not just Schooner Bay and its homeowners.
The concept document, describing the Commons as "a sister community" to Schooner Bay, states: "The Commons will incorporate social, community, waste management and emergency services."
A community centre, doubling as a hurricane shelter and with the capacity to hold 300 people, was to be constructed along with sporting and recreational facilities. And the Commons 'concept' plan added: "The Commons will provide for sustainable production of agricultural products through environmentally-sound technologies and management practices.
"Sustainable living will be the policy behind the Commons... The Commons will feature an allotted green region providing farm land for lease. Leases can be obtained for multiple years, and may be renewed providing that the lands are used continuously and maintained to a standard consistent with the agricultural objective of the Commons.
"These objectives include food production for sale to offset the need for food imports, developing agricultural products for export, and providing indigenous plants for landscape installation."
Schooner Bay's developer promised it would begin work on the Commons as soon as all government approvals were received, with the promised facilities to be completed within six years.
"The developer commits to spending $2 million to construct the facilities described in this summary, and to providing management as needed until Schooner Bay becomes self-sufficient at no cost," the paper added.
The 'concept' paper also laid out how the Commons would be "governed by a Bahamian foundation", overseen by regulations that would "preserve the intention and sustainable living policies" for the 100-acre Crown Land tract.
Documents in Tribune Business's possession show that Ryan Pinder, the former financial services minister and MP, was hired to perform the necessary legal work to set up and structure the foundation, to be called 'The Commons of South Abaco Foundation'.
Mr Pinder, who was then in private practice, was informed by the Government on October 5, 2009, that the Crown Land requested would be made available PROVIDED IT WAS LICENCED TO THE FOUNDATION.
The letter, signed by David Davis, then-permanent secretary in the Prime Minister's Office, said: "Please be advised that in principle the Government would have no objection to making available the requested 100 acres on an annual licence to create a nature preserve/park on condition that the use of the park would not be restricted to the residents of Schooner Bay, and that the application be submitted in the name of the proposed Bahamian Foundation or Association once it has been formed."
However, documents obtained by Tribune Business show that within months of the Government's letter, and with the Foundation on the verge of being consummated, the file was "abruptly taken" from Mr Pinder by Schooner Bay.
And, in early March 2010, the 100-acre Crown Land tract was licenced not to the Foundation, but Schooner Bay Ventures Ltd, the developer, seemingly going against the Government's original approval in principle.
The letter approving the annual licence reiterated, though, that it was "approved for a wide variety of purposes, including farming; a community centre; a hurricane shelter; sporting activities such as tennis and basketball and equestrian; waste management; and emergency services".
Critically the letter, sent by the Department of Lands and Surveys, added: "The licence is subject to the land being used for the benefit of all residents of Abaco......" The licence, a copy of which has been seen by Tribune Business, contains exactly the same language as the letter.
This raises urgent questions as to whether, in evicting Driftwood Food Company and denying other Bahamian-owned companies use of the Commons, Schooner Bay and its developer are in breach of both the spirit and terms of the licence.
Other documents obtained by Tribune Business show that Destination Schooner Bay (DSB), a Bahamian-owned property and vacation rental manager, and Dr Larry Carroll's Sandpiper Inn, both had lease requests for Crown Land parcels on the Commons rejected by the developer in 2014.
This, together with the initial threat to evict the Kellys, prompted the then-Christie administration to intervene via the BIA, and in conjunction with the Abaco Chamber of Commerce. Several meetings were held in 2015, and 2016, but no resolution was achieved.
A July 21, 2015, letter from the Government to Tina Gascoigne, the American attorney who acts as Schooner Bay's general counsel, "strongly requests" that the developer reconsider both the Kellys' eviction and refusal of Crown Land to the Sandpiper Inn.
Alivia Forbes, writing on behalf of the BIA's director of investments, said: "I am directed to advise you that regarding the 100-acre parcel of land by which Schooner Bay Ventures holds an annual licence from the Government..... provides that the licen ed area 'may be utilised for a wide variety of purposes, including farming, a community centre, a hurricane shelter... and is subject to the land being used for the benefit of all residents of Abaco.
"Therefore, the land is licenced to Schooner Bay Ventures to also facilitate small business for Bahamians."
Ms Forbes continued: "As you can appreciate, small business ventures that are owned by Bahamians, such as the Sandpiper Restaurant [Inn], not only help to stimulate economic activity but also operate to the benefit of Schooner Bay Ventures and the wider community.
"Therefore, the Government strongly requests that Schooner Bay Ventures reconsider its position concerning the Sandpiper Restaurant. I am further directed to advise that Schooner Bay Ventures is asked to review its decision regarding Mrs Tracy Kelly [Driftwood Food Company.
"We note that the Abaco Chamber of Commerce has taken a keen interest to assist in resolving this matter. In that regard, we trust that you will reciprocate." That, unfortunately, has never happened.
Schooner Bay's abrupt change in direction appears to have coincided with its decision in 2013-2014 to part ways with Bahamas-based developer, Orjan Lindroth, and his Lindroth Development Company.
The latter had acted as the 220-acre project's master planner and development partner since inception, handling all real estate sales and promotions. They were replaced by a succession of foreign sales companies who met with limited success as Schooner Bay's growth seemingly "stagnated".
While Mr Lindroth and his company were Schooner Bay's public face, the project's financing was provided by Dr David Huber. Dubbed "America's richest Mormon", Dr Huber made a multi-billion dollar fortune from patenting fibre-optic technology and then taking the companies that owned it public on the US stock market.
Tribune Business finally contacted Dr Huber, Schooner Bay's principal, on the third day of trying last week, none of its previous voice messages having been returned. But, as soon as this newspaper mentioned the Kellys and Driftwood Food Company, the call was abruptly disconnected. When Tribune Business immediately called back, it rang straight through to voice mail.
Dr Huber, though, phoned this newspaper back several hours later, explaining the call dropped because he was driving through an area with poor mobile telephone reception. However, when pressed about the Kellys' eviction, he effectively stonewalled and hid behind the line that he was unable to comment because the matter was in litigation.
Mr Kelly, though, denied that the Driftwood Food Company matter was in litigation. And, when challenged over the Commons, especially how it came to be licenced to the developer, and whether the licence terms are being breached, Dr Huber replied: "I don't think that's accurate."
He did not, though, explain what was inaccurate or why, and retreated to his set line: "I can't comment on this because of litigation." Again, Tribune Business's research has not uncovered any lawsuits relating to the Commons.
Dr Huber also appeared to suggest that Schooner Bay's critics did not have the Bahamas' best interests at heart, given the country's desperate need to attract foreign direct investment (FDI) and projects such as Schooner Bay. "The people you're talking to don't have that interest in mind," he said.
Mr Kelly, not surprisingly, has a different take. "The best word to sum them up is 'arrogant'," he said of Schooner Bay and its principals. "In the bigger picture I don't think there's a single employee that has left them in a satisfied, happy way, or anyone who has done business with them in the Commons.
"There's a whole litany of unhappy people, and quite a few involved in litigation. There's been others who have given up and moved on. They've taken their losses and moved on, and we hope not to be one of them."
Mr Kelly said he and his wife encountered "roadblock after roadblock" in trying to obtain a Commons lease, and formalise their relationship, with Schooner Bay. "The Office of the Prime Minister recommended applying to lease the seven acres for the farm directly," he added. "To date, we have had no formal response from Lands and Surveys."
Mr Kelly said the duo had planned to grow 40,000 to 50,000 plants this year, and hire one-two Bahamian staff, after building up Driftwood's customer base. He added that this included direct deliveries, restaurants, grocery stores, bonefish lodges and second homeowners in areas such as Marsh Harbour, Treasure Cay and Hope Town.
Organic green mix and other vegetables had formed Driftwood's staple products, and Mr Kelly said he and his wife had been able to save 15-20 per cent of the crop following the water cut-off by moving it to their home with the aid of friends and relatives.
He added that their eviction was especially ironic, given that Schooner Bay had "used the farm as part of their marketing machine", featuring it on their website and taking prospective clients on tours of the facility.
Recalling the frequent visits by school parties, Mr Kelly said: "We really thought we were doing the right thing for our country, not just trying to make a buck. That's what troubles me more than anything else.
"We'd made no real capital investment there life we'd wanted to as we always knew they could cut the water off. It's just the unexpected nature of it. They're [the developer] going to go back and say two years ago we told you to get off, but it went quiet after that and there was a lot of dialogue that said: 'Keep farming'."
Revealing how the eviction has impacted his family, Mr Kelly added: "My eldest son commented the other day: 'I guess I won't be going to school next year'. We didn't use the farm to put food on the table every day, but it allows is to send him for an education and do those things.
"I would just like to see some sort of intervention by the Government that gives us written permission to farm in that area long-term with a set of guidelines. We have no problem adhering to guidelines."