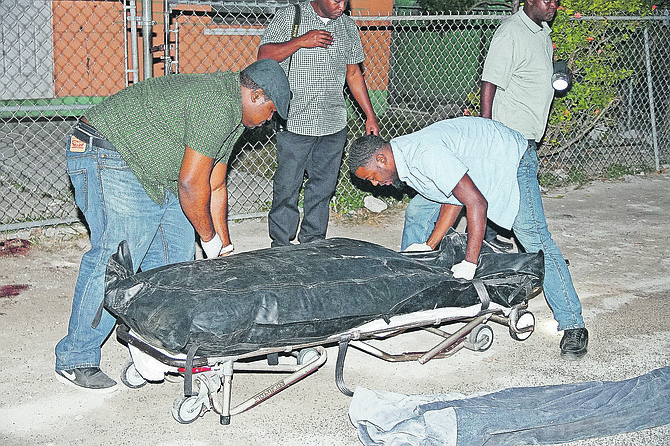 By RASHAD ROLLE
Tribune Staff Reporter
rrolle@tribunemedia.net
IN the the fifth police-involved killing in a month, police shot and killed a man Friday after he allegedly opened fire at them.
During the man's attempt to evade apprehension, police said, he collided into a vehicle, exited his car and fired a shot in the direction of the officers.
"Officers being in fear for their lives returned fire," Assistant Commissioner Clayton Fernander said. "The individual ran a short distance where he collapsed. A weapon was recovered — a pistol fully loaded — from that scene."
Police said they had issued a bulletin earlier Friday for a sky blue Nissan Bluebird self-drive – or rental – vehicle with two suspicious looking men seen in the Palmdale area.
Police later encountered the men and their vehicle around 7pm in the Homestead and Minnie Streets area when the chaos erupted.
A .45 Austria Glock pistol and a magazine with ammunition was recovered from the scene, police said.
The other passenger in the car was arrested.
He said the rash of recent police-involved killings reflect increased aggressiveness of suspects toward authorities.
"I must praise the officers because they are on the alert," he said. "We want to give God the thanks for guiding us and for keeping us safe that the shoe was on the other foot because it could've been different."
He said police have "emptied all of the offices from police headquarters down to the divisions" and are out on the scene.
The coroner and her team visited the scene.
The deceased has been identified as Marc Charles.
The scene of the incident drew numerous onlookers, including several mourners who hollered out.
"That's my brother," one woman screamed. "I want to see him. These sissy police take him down. I woulda been happy if the streets took him."
Meanwhile Mona Barr, the mother of one of Mr Charles' daughters, contested the police version of events yesterday, insisting there are eyewitnesses who could contradict police claims.
Mr Charles had two other children, she said, a one-year-old and a ten-month-old baby girl.