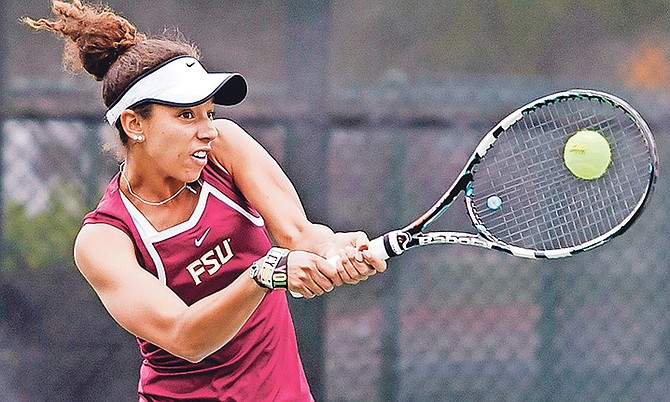 Top seeds Kerrie Cartwright and Baker Newman will be in action in the first set of matches played today at the National Tennis Centre as the Bahamas Lawn Tennis Association's Annual Giorgio Baldacci Open gets started.
Cartwright, one of 12 players entered in the ladies' draw, will begin play 9am this morning on the Stadium court against Donesha Gibson, while Newman, one of 19 men, will play the opening match at the same time on court one against Perry Newton Jr. Cartwright, the only female player with a WTA ranking, is back in the tournament after missing the past two years.
She is being joined by Grand Bahamian collegian Simone Pratt, the No.2 seed, who is also making her return from a brief hiatus. Collegian Danielle Thompson is seeded at number three and local junior player Sydney Clarke will occupy the No.4 spot. Missing will be collegian Iesha Shepherd.
The women will be playing for their spots on the Fed Cup team.
On the men's side, Baker and Spencer Newman will be back as the top two seeds respectively. Veteran Marvin Rolle will play out of the No.3 spot, Kevin Major Jr is No.4 and Philip Major Jr round out the top five.
At the end of the tournament, the BLTA will select the players who will be eligible to represent the country on the Davis Cup team.
The BLTA have divided the players into four pools for the women and five for the men. They are seeded based on their ATP/WTA, NCAA and national rankings respectively in singles.
The remaining players were drawn randomly to complete the pools. Each player will play each other in the round robin during the course of the week.
The first two finishers in each men and women pools will go into a knockout main draw with the eventual losing semi-finalist playing for third and place.
Second round losers in the main draw will then play for fifth through eighth places.
The players have been matched up in the following pools:
Ladies' division
Pool A - Kerrie Cartwright, Gabriela Donaldson and Donesha Gibson.
Pool B - Simone Prtt, Elana Mackey and Larikah Russell.
Pool C - Danielle Thompson, Afrika Smith and Sydni Kerr.
Pool D - Sydney Clarke, Sierra Donaldson and Perjae Major.
Men's Division
Pool A - Baker Newman, joshua Turnquest and Perry Newton Jr.
Pool B - Spencer Neeman, Michael Cooper. Shannon Francis and Archie Burrows.
Pool C - Marvin Rolle. Justin Lunn, Calvin Moodie and Michael Butler.
Pool D - Kevin Major Jr, William Fountain, O'Neal Mortimer and Robert Smith.
Pool E - Philip Major Jr, Jody Turnquest, Donte Armbrister and Nathan Thompson.
Today's matches are as follows:
9 am - Kerrie Cartwright vs Donesha Gibson; Baker Newman vs Perry Newton Jr; Kevin Major Jr vs Robert Smith; Marvin Rolle vs Michael Butler; Philip Major Jr vs Nathan Thompson; William Fountain vs Oneal Mortimer; Justin Lunn vs Calum Moodie and Jody Turnquest vs Donte Armbrister.
10 am - Shannon Francis vs Michael Cooper; Afrika Smith vs Sydni Kerr; Simone Pratt vs Larikah Russell; Sydney Clarke vs Perjae Major.
2 pm - Gabriela Donaldson vs Donesha Gibspn; Danielle Thompson vs Sydni Kerr; Sierra Donaldson vs Perjae Major and Joshua Turnquest vs Perry Newton Jr.
4 pm - Simone Pratt vs Elana Mackey; Spencer Newman vs Shannon Francis; Kevin Major Jr vs Oneal Mortimer; Marvin Rolle vs Calum Moodie; Philip Major Jr vs Donte Armbrister; Jody Turnquest vs Nathan Thompson;l Justin Lunn vs Michael Butler; Michael Cooper vs Archie Burrows and William Fountain vs Robert Smith.