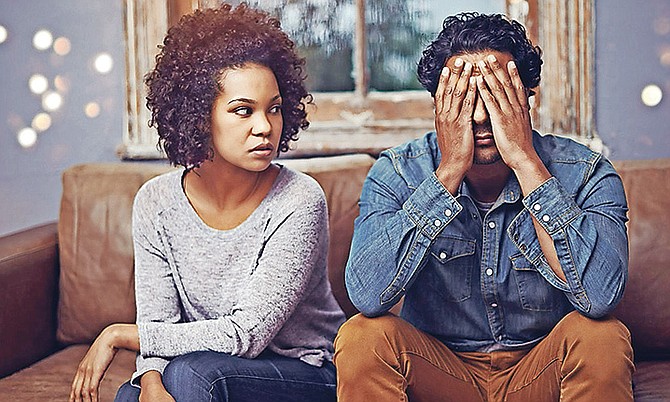 By JEFFARAH GIBSON
Tribune Features Writer
jgibson@tribunemedia.net
You have bought him a fabulous gift and it's wrapped and sitting nicely under the Christmas tree. And since there is only a week to go before Christmas Day, you excitedly anticipate the smile your guy will give you when he opens his painstakingly selected present.
However, in the days leading up to the holidays there has been constant fussing and fighting among the two of you. He's done and said some things that have made you unhappy and the relationship has cooled off somewhat. He has not been kind to you, and maybe you have paid him back with a little misbehaviour of your own.
With all of this is going on you may feel uninspired and not in the mood to gift him with something that signifies the love and commitment you usually feel for him. So what do you do with the gift under tree? Tribune Woman spoke to several ladies who gave their take on this common scenario.
Give it to your dad/brother/uncle
Micheala, who has been down this road two Christmas' ago, said that when she and her boyfriend reached a rough patch in their relationship right before the holidays she was extremely turned off and felt that her partner at the time was not "acting right and should not be rewarded".
"Don't get me wrong, I don't believe gifts are merely a reward. But if things are not going good in the relationship and I am not treated the way I want to be treated, then my man is not getting a gift from me. It is as simple as that. And if he is the one who has been messing up I feel he should be gifting me," she said.
As for the already purchased Christmas gift, Micheala said she found someone else to give it to.
"When my brother got the gift it was funny because he was shocked. He knows I rarely ever get him anything for Christmas. He asked if I was feeling OK", she said.
Keep it for a his birthday
There will always be another opportunity to give your guy something special. Tina suggests waiting for his birthday.
"I would save that gift and wait until his birthday comes around to give it to him. That saves me money. And I am pretty sure if he knows that our relationship has been rocky he doesn't expect to receive anything from," she said.
And in case he is a 'December baby' and his birthday falls after Christmas Day, then Ashnell said "there is always next year".
"If I am still in a funk and my feelings have not changed then he will have to wait a full 365 days for that," she said.
Exchange it and get something for yourself
When Christmas shopping, most retailers encourage buyers to keep the receipts for their purchases in the event they wish to make an exchange. Tiffany said this makes perfect sense if you want to exchange an item you got for your guy. She advises "to get something for yourself instead".
"This can work with gifts like fragrances, sunglasses and even jewellery items. You can make the exchange, find something for yourself at the same price point, if the store allows. At the end if the day, you don't really lose," she said.
Give him the gift, it's his
While Angela agrees that she would not be particularly thrilled to "reward" her man if he has been misbehaving, she would still give him his present, after all she did buy it for him.
"If I kept the gift, then is it really a gift? And did I really want to give it in the first place? I just believe that giving should not be based on conditions, because if I bought someone a gift and truly wanted them to have it then I should let them have it," she said.