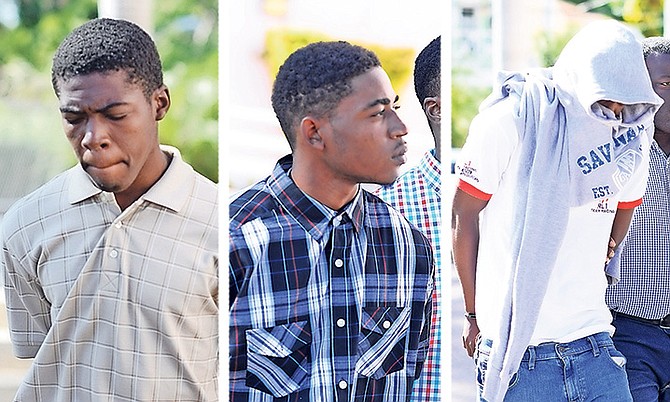 By NICO SCAVELLA
Tribune Staff Reporter
nscavella@tribunemedia.net
TWO men and a juvenile were arraigned yesterday over allegations the first two murdered one man, robbed two others and had help evading the law concerning the murder from the juvenile.
Torieano Cummings, of Pyfrom Road and Keith Barr of Kemp Road, both 18, stood before Chief Magistrate Joyann Ferguson-Pratt faced with one count of murder and two counts of armed robbery concerning incidents that took place on December 10.
It is alleged on the day in question, Barr and Cummings murdered Louines Naissance. It is further alleged that on the same date, with a handgun, the two robbed Canes Fleurescar of $126 cash and Sintamat Joseph of a Samsung cellphone worth $100 and $200 cash.
The juvenile, 17, faced one count of accessory after the fact. It was alleged that on the date in question, knowing Cummings and Barr to be parties to a murder, he helped them evade the law.
The murder arraignment stems from an incident that occurred on December 10 at Shirley Street.
According to initial police reports, shortly before 1pm three men were working at a construction site on Shirley Street when they were approached by two men, one armed with a firearm, who demanded cash.
Two of the workers were subsequently shot. The third worker was gun butted before the suspects fled on foot.
One of the victims was pronounced dead on the scene while the other two men were taken to hospital and were said to be in serious condition.
None of the accused were required to enter a plea to the charges and the matter was adjourned to February 22, 2018 for service of a voluntary bill of indictment.
They were all remanded to the Bahamas Department of Correctional Services in the interim, with the juvenile to be admitted to the juvenile section of that facility.
However, Barr's attorney Nathan Smith told the chief magistrate that his client was made to sign statements under duress, and that he was the victim of police brutality.
The chief magistrate noted Mr Smith's submissions, and Barr was remanded back into custody.