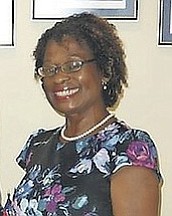 By SANCHESKA DORSETT
Tribune Staff Reporter
sdorsett@tribunemedia.net
SOCIAL Services Minister Lanisha Rolle's comments on marital rape "flies in the face of commonsense and human decency" and she needs to be more "informed and aware" of the issues she speaks about before speaking "utter nonsense," according to attorney and United Nations expert Marion Bethel.
In an interview with The Tribune, Mrs Bethel, who was elected to serve on the United Nations Committee on the Elimination of Discrimination Against Women (CEDAW), said she is extremely disappointed that Mrs Rolle, the only woman in Cabinet, would not take a firm stance on the issue of marital rape.
She also criticised Prime Minister Dr Hubert Minnis for refusing to express his personal views on the matter saying: "It is ridiculous that he chooses to remain silent" on the subject.
On Tuesday, Mrs Rolle told reporters marital rape was a "private" matter that could become public and shied away from taking a firm position on whether it should be outlawed. Instead she insisted marriage is private and its sanctity should be protected.
Mrs Rolle said before the government acts or makes determinations that legislate how people's personal lives are managed – adding there are two sides to every story – there should be a proper national conversation on spousal rape. Once a public consensus is taken, she said the Minnis administration should act accordingly.
"To Minister Rolle, the issue of marital rape is not a private issue, rape is a criminal offence and marital rape ought to be a criminal offence," Mrs Bethel said. "Forcing someone within a marriage erodes the sacredness and ought to be a punishable offence.
"Her comments were utter nonsense and ridiculous and just flies in the face of commonsense and human decency. It is a violation of woman and needs to be criminalised. There is no way in 2017 there should not be that kind of protection for women. As minister of social services she has a responsibility to be aware and more informed on this issue. Her ministry is where the issue needs to have leadership and guidance and help shape public opinion. I am just really disappointed, she is not well informed and clearly does not understand that rape is not about sex, but it is about power. It is a violation and it is not a matter of consensual sex, which is a private issue."
Mrs Bethel said the Bahamas has signed on to several human rights treaties and has an obligation to comply and with international obligations. She said in October 2018, she will have to make a national report on the status of women before CEDAW and now "I have to go and say once again, that we have not done anything."
She called on Dr Minnis to make his views on marital rape public and to lead the issue rather than "letting the public decide."
"The prime minister ought to have personal views and he needs to express his views on the matter and make them transparent to the public," she said.
"He is the leader and he needs to give leadership and guidance on the marital rape law. I am disappointed that he said he didn't have a personal view. It is his voice that we need to hear from at this time."
Mrs Bethel applauded Deputy Prime Minister K Peter Turnquest, State Minister for Legal Affairs Elsworth Johnson and former Transport and Aviation Minister Glenys Hanna Martin for their support of criminalising marital rape.
On Monday, Attorney General Carl Bethel, acknowledging the controversial nature of the issue, said he hopes a compromise can be made resulting in characterising sex without consent in a marriage as sexual spousal abuse as opposed to rape. This, he said, could be addressed by amending the Matrimonial Causes Act or the Domestic Violence (Protection Orders) Act.