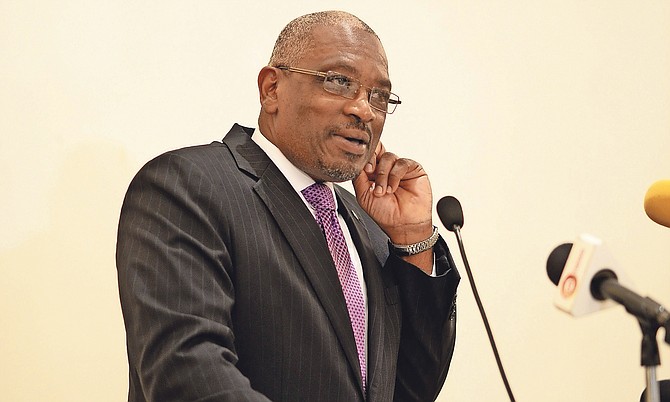 By KHRISNA RUSSELL
Deputy Chief Reporter
krussell@tribunemedia.net
PRIME Minister Dr Hubert Minnis has said he has no personal view when it comes to marital rape, saying the government will ultimately allow the people's voices to be heard on the controversial issue of whether it should be outlawed.
"I think with all matters (and) new legislation that we will be bringing forth, I think we will take it to the public first, listen to them (and) be guided by them," Dr Minnis commented in a ZNS interview, which aired on Tuesday evening.
"They must have their input and you'll see there is change of focus. There are more involvement and that does not exclude the marital rape and so we'd listen to the people. The people must speak. The people must have their voices be heard."
Asked pointedly for his personal view, he said: "As prime minister I don't have personal views anymore."
When asked about marital rape by reporters as he was leaving an event at Government House yesterday morning, Dr Minnis refused to state his thoughts on the hot button topic, repeatedly saying he was more concerned about Christmas. 
His comments to ZNS appear in line with those of Social Services and Urban Development Minister Lanisha Rolle, who on Tuesday also shied away from taking a firm position on marital rape, saying it's a private matter and should be decided on after a public conversation.
However, the prime minister's comments also show that he and Deputy Prime Minister Peter Turnquest do not agree. Mr Turnquest has said his personal view is marriage does not give a man the right to "own anybody." Asked whether he believed the issue was something that should be looked at legislatively, the minister of finance said he was "certainly" open to this.
The issue of recognising marital rape was reignited in the country after Dubravka Šimonović, the UN's special rapporteur on violence against women, said last week marital rape is the most pressing gender-based issue facing the Bahamas.
Ms Šimonović, a human rights expert, stressed the legality of martial rape is "a sign that something is deeply wrong," adding the issue could easily be resolved through legislative changes.
In 2009, the Ingraham administration tabled a Marital Rape Bill in Parliament but the legislation was shelved after a divisive public debate and outcry from some quarters.
More like this story