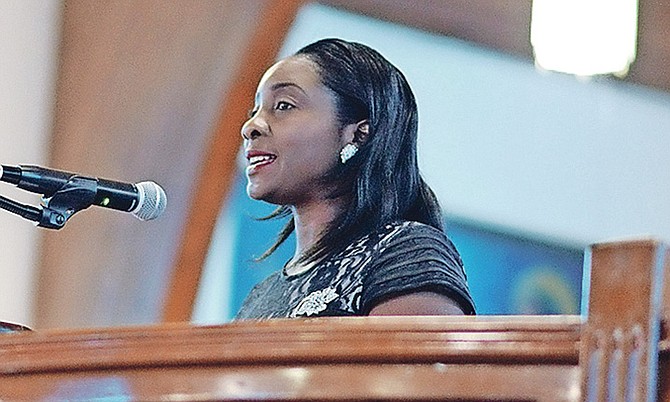 By RASHAD ROLLE
Tribune Staff Reporter
rrolle@tribunemedia.net
SOCIAL Services Minister Lanisha Rolle is not upholding the mandate of a ministry that has long been the government's gateway to pushing women's issues, two prominent Progressive Liberal Party (PLP) women said yesterday after her controversial comments on marital rape. 
Describing marital rape as a "private issue" was seen as a step too far, going well beyond merely calling for consensus before introducing a bill that could criminalise the act.
When contacted, Englerston MP Glenys Hanna Martin said: "I am shocked by what she said. As someone with responsibility for women's issues she was not upholding her responsibility. She was derelict in that regard. Her view flies in the face of what is accepted globally and in our own country. Just because you marry someone they are not able to assault you.
"Marriage is a cooperative undertaking. We accept to a contract by saying 'I do' and that kind of consensual attitude continues throughout the marriage."
Mrs Hanna Martin added: "Rape always happens in private. I cannot off-hand think of a case where rape happened in the public eyes. Sometimes you know the person who rapes you, sometimes you don't, but that's not the point. Having regard to her special responsibility and what I hope is her special knowledge of the dilemma of women, I think that she would have to find a place for her personal view to not obstruct or interfere with what are accepted norms in terms of human rights for women."
In an interview with reporters ahead of Cabinet's meeting on Tuesday, Mrs Rolle said the country does not condone violence against women, adding: "In relation to marital rape, I've always said it is an issue that is private."
Her response contrasted with Deputy Prime Minister and Minister of Finance Peter Turnquest who earlier had said he was open to legislation that would protect a woman's fundamental right to her body, even in the context of marriage.
Former Social Services Minister Melanie Griffin said Mrs Rolle's comments "were amazing" because she is in charge of women's affairs in government.
She noted there is a women advisory council in her ministry and the ministry works closely with the Bahamas Crisis Centre whose deputy director has called marital rape a problem that affects women who call the centre's hotline. Mrs Griffin also said the ministry plays a key role helping the country implement international conventions on women, including the United Nations Convention on Elimination of all forms of Discrimination Against Women (CEDAW), for which this country is a signatory.
In fact, the person who currently heads the Department of Gender and Family Affairs (formerly the Bureau of Women's Affairs) at the ministry is Gaynell Curry. Ms Curry has 18 years' experience working at the UN and, according to a government press release last year, helped develop the CEDAW convention that calls for marital rape to be outlawed. The department on its Facebook page Sunday shared the video of Dubravka Šimonović, UN special rapporteur on violence against women, speaking about the need to enact marital rape laws and improve human rights in other areas.
Noting the Ministry of Social Services has a Domestic Violence Unit which helps women who suffer from the issue, Mrs Griffin said she hopes people who experience marital rape are not discouraged from seeking the ministry's help because of Mrs Rolle's comments.
"I cannot understand the position she's taken," she said. "I will hope that persons are not discouraged but there are a lot of hurting women out there. Many people because they don't experience these things might say there's no need for it but there are those who experience these problems every day. You have situations where a husband and a wife might have a house together, might have children together and because of that a woman might say while she can't leave him she can't have sexual interactions with him especially without a condom because he's out there playing around. But the husband might force himself on her. That's rape."