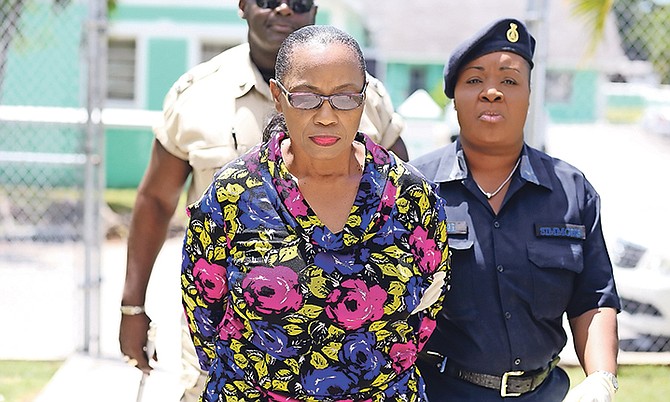 FORMER National Insurance Board (NIB) manager Selena Sweeting's trial over allegations of bribery and extortion is set to commence on February 7 next year.
The matter was previously adjourned by Chief Magistrate Joyann Ferguson-Pratt for a day following submissions from Sweeting's attorney Wayne Munroe, QC that he was not prepared to proceed without a stenographer.
Crown prosecutor Terry Archer said he was ready to proceed and presented to the chief magistrate a list of witnesses present for those proceedings, chief of whom was the virtual complainant Marvin Shawn Rahming.
However, the chief magistrate, in endorsing Mr Munroe's stance, said she was not minded to proceed with a virtual complainant without a stenographer present.
Sweeting was initially arraigned in August on bribery and extortion charges.
It is alleged Sweeting, between January 27, 2017 and July 14, 2017, in respect of her duties as a public servant, demanded and solicited $5,000 from Marvin Shawn Rahming for assisting him in receiving business from NIB.
At the time, Sweeting elected to be tried in the Magistrate's Court and pleaded not guilty to both allegations. She was granted $8,000 bail by Supreme Court Justice Gregory Hilton hours after she was initially arraigned.
She is required to sign in at the Elizabeth Estates Police Station once a month as a condition of her bail.
Meanwhile, the trial of interdicted Post Office employee Darnell Kemp Lightbourne's multiple fraud related charges will commence on January 25 and 26, according to her attorney.
Lightbourne, along with Quinton Ewing, were initially arraigned in September facing six counts each of fraud by false pretenses and one count each of conspiracy to commit fraud.
Regarding the six counts of fraud, it is alleged the two, between September 30, 2016, and March 15, 2017, while at New Providence and being concerned together, obtained a total of $84,449.41 from the government.
Lightbourne was further charged with seven counts of falsification of accounts. It is alleged that she, while serving as an accounting officer at the General Post Office, with the intent to commit fraud, falsified payment records in relation to ABC Security Company, owned by Ewing, to indicate it was entitled to a total of $83,895.05 between September 2016 and February 2017.
Both Lightbourne and Ewing plead not guilty to all of the charges.