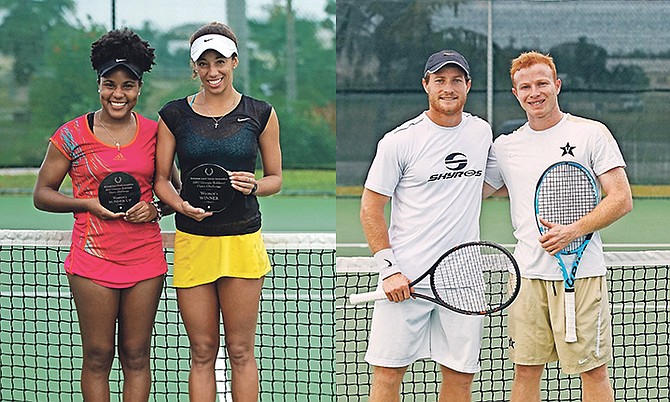 The third time around turned out to be the charm for Spencer Newman as he finally got to turn the tables on his younger brother Baker Newman.
In a gruelling, three-hour match on Friday at the National Tennis Centre, Spencer Newman joined Kerrie Cartwright as the champions of the Bahamas Lawn Tennis Association's 2017 Giorgio Baldacci Open National Tennis Tournament.
Playing in the sibling showdown for the third consecutive final, big brother Spencer Newman pulled off the men's title with a 6-4, 4-6, 7-6 (4) decision.
"I don't think it gets any closer than that," said Spencer Newman after the final score. "I'm happy with the way I played. I'm happy with my finish. I felt I was as fresh going into the third and even fresher than going into the second set."
That rejuvenation was able to allow 24-year-old Spencer Newman to finally get the monkey off his back after he played and lost to Baker Newman, 22, in the final of the tournament the previous two years.
"He played well. Unfortunately, he broke all of his strings on his rackets and he had to play with his buddy's own, which I'm sure affected him a little," Spencer Newman said.
"I'm sure it affected me even more because it was like nothing happened after he kept losing his rackets. I was just thinking that there was no way that baby bro was going to get me three years in a row."
It's going to be a conversation that Spencer Newman said will be discussed for years to come.
But despite losing the title, Baker Newman said he's not disappointed in losing the gruelling match that was played under the lights on stadium court.
"You win some and you lose some," Baker Newman pointed out. "He got me this time. I know what I need to do to get better. It was just a great match."
Baker Newman, who advanced to the final by outlasting Philip Major Jr in three sets, said he knew he and Spencer Newman would play three sets as well. "He beat me square and fair. He showed me some things that I need to do to get better," said Newman, who is now in his final semester at Vanderbilt. "It was good."
Pennie Baldacci, the wife of the late Giorgio Baldacci, whom the BLTA named the tournament after, was in attendance along with her son Adriano Baldacci. She said she was pleased with what she saw in the men's match.
"We've been touched that it's been five years that Giorgio has died and they are naming the tournament after him," she said. "It's quite an important tournament. "I don't understand tennis...Apparently it's a big deal because the winners of this go on to play the Davis Cup and the Fed Cup, which he has served as a coach before."
Baldacci, who received an award from former BLTA president Derron Donaldson, now the secretary general of the Bahamas Olympic Committee, said next year their family hopes to present an award in honour of Giorgio Baldacci to the tournament organisers.
While she only got to watch the Newman brothers trade point for point and set for set, Kerrie Cartwright walked away with a 6-0, 6-1 decision over Danielle Thompson.
"Danielle played very well. She fought hard and it was a good match overall," said the 24-year-old Cartwright, who used her experience as a WTA tanked player to her advantage.
"Honestly the first set was really close. The score didn't show it. Each game went to deuce or 30-all. It really was depending on who those last two points. It could have gone both ways. It could have gone 6-4, but I was lucky enough to take those games and win that first set 6-0 to take the lead."
Cartwright, who advanced to the final by overcoming a two-set win over Grand Bahamian collegian Simone Pratt, played a tight second set as well before she prevailed.
Thompson, 22, concurred.
"I honestly would say that I don't think the scores matched the level of play," said Thompson, who is now in her senior year at Morgan State University. "I was rushing to end the point and she was hitting an extra ball and she won overall."
Unlike Cartwright, Thompson didn't play her semifinal match as her opponent, Larikah Russell didn't show up. But Thompson said it didn't make a difference.
"I can't say that I want to put the blame on that because I still hit the same day and got some practice in," she said. "Kerrie is a real competitive player. I just came out hoping to do my best.
"Kerrie is on the WTA tour and I was able to be neck and neck with her. I don't feel that the score reflected how well I played, but I was still surprised."
Although she got blanked in the first set, Thompson and Cartwright endured some long rally points. They did the same in the second set until Thompson avoided the sweep as she held serve at 4-0.
Then the rain came, halting play as both players cooled down. When they resumed play, Cartwright used her international experience on the International Tennis Federation's tour where she's been able to secure her Women's Tennis Association's ranking, to end the drama.
She went on to hold serve and break Thompson to finish off the match.
"I've been through this so many times," said Cartwright about the rain delay. "You kind of have to tell yourself you really can't control it, so you just have to go with it from there.
"But I think I played really well here. I'm glad that I came. I'm so happy to be here and to have played home again. It's been so long and I missed it. But overall throughout the tournament, I think I played very well."
Cartwright will now return to Florida where she's based to prepare for three tournaments, starting in Daytona Beach on January 6, followed by one in Orlando and another in Tampa as she try to improve her rankings.
The tournament served as a trial for the men's Davis Cup and the ladies Fed Cup teams that will travel next year. The top four players in each division are being considered for the team section.
Joining the Newman brothers on the men's list are Kevin Major Jr, who got eliminated in the semifinal by Spencer Newman and Philip Major Jr, who was ousted by Baker Newman.
"To my knowledge, we're headed to Costa Rica at the end of May, so whether I'm playing one or two or just helping out on the bench, we're all there on the team," he said.
"So whoever needs to get the job done can get the job done. I feel confident that we are right there to be a contender to get promoted again."
Baker Newman, who hopes to be back on the team after he missed the trip last year because of school commitments, said he hope to be ready to play.
"This was my first tournament in six months," said Baker Newman, who is recovering from injury. "I'm just great to be playing again."
On the ladies' side, Cartwright, Thompson Pratt and Larikah Russell emerged as the final four and will be considered for the Fed Cup team selection.
"I can't wait for Fed Cup. That's a solid team," Cartwright said. "I don't even know when Fed Cup is. I don't care. I'm so excited. I can't wait to play."
After she completes her final semester at Morgan State, Thompson hopes to try the pro tour upon graduation. She indicated that she's talked with Cartwright about at least training together, if they don't get to play doubles.
But Thompson said she's looking forward to hooking up with Cartwright and the other players on the Fed Cup team again.
"We played before, me, Kerrie, Larikah and Simone and we made it out of zone II," she reflected. "So I'm comfortable playing with a team I know. They will have my back and I will be there for them, so I'm looking forward to it."
The special awards from the tournament went to Sydney Clarke and Afrika Smith for the co-Most Improved Female Players and Donte Armbrister and Joshua Turnquest for the co-Most Improved Male Players. Turnquest was also awarded the Best Male Sportsmanship, while the female award went to Larikah Russell. The nominations were made by the tournament participants.
Wesley Rolle served as the tournament director.