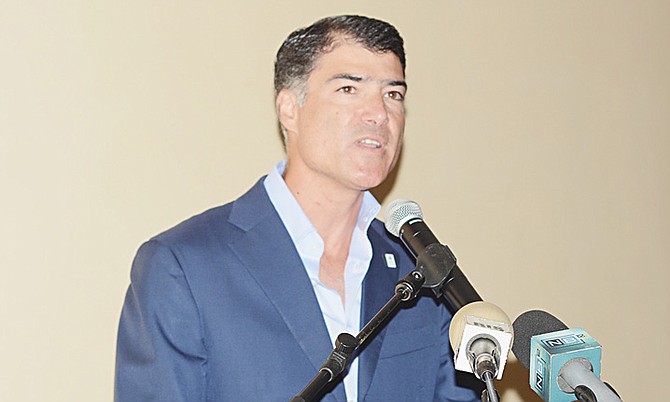 By NEIL HARTNELL
Tribune Business Editor
nhartnell@tribunemedia.net
Sarkis Izmirlian yesterday launched a $2.25 billion damages claim against Baha Mar's main contractor, accusing it of "one of the largest construction-based frauds in this hemisphere".
The $4.2 billion project's original developer, in a lawsuit filed in the New York State Supreme Court, alleged that China Construction America (CCA) and its subsidiaries perpetrated a "massive" scheme of "cover up", "deceit", "outright sabotage" and lies to both conceal its failures and "extort more money than it earned".
The action, filed in the name of Mr Izmirlian's BML Properties vehicle, claims that the Chinese state-owned construction firm deliberately concealed its intention to use Baha Mar as "a massive training exercise" that ultimately doomed the project to failure.
Besides alleging that CCA's "real intent" was never to complete Baha Mar "on time and on budget", Mr Izmirlian and BML Properties also claim that it falsified and misrepresented reports on the mega resort's construction progress and the size of its workforce.
The claim, for breach of contract and fraud, alleges that the Chinese contractor earned "tens of millions, if not hundreds of millions" more than it should as a result of uncorrected defects plus inflated and "sham" billings.
And the lawsuit also details numerous alleged construction defects that, if not caught, would have compromised the health and safety of thousands of tourists, hotel guests and Baha Mar staff (see other articles on Page 1B).
"This case is based on a massive fraudulent scheme devised in 2012 primarily by defendant China Construction America (CCA) to enrich itself at the expense, and to the harm, of plaintiff BML Properties," Mr Izmirlian alleged.
He added that this ultimately "led to the collapse of the project and the loss of BML Properties' enormous investment, while CCA and its Chinese affiliates profited".
"Defendants' massive fraud is one of the largest construction-based frauds in this hemisphere," Mr Izmirlian and his company alleged. "The scheme was based on CCA's efforts to falsely create the appearance that it was working toward an on-time and on-budget opening in December 2014, while knowingly and fraudulently concealing its real intent not to construct the project on time and on budget, and in the process extort more money than it earned and was due.
"Starting in 2012, as significant 'out of the ground' construction began and the first floors above the foundations were constructed, CCA knew it would be unable to build the project on time, on budget and in accordance with the plans and specs because, among other things, it did not have - and would not commit to the project - the qualified workforce or sufficiently senior managers needed to meet its representations and obligations."
"CCA carried out its scheme by a series of knowingly and intentionally false representations, acts of extortion, material failures to disclose, fraudulent acts of concealment, outright sabotage, and lies to the Government of the Bahamas and the project lender [China Export-Import Bank," Baha Mar's original developer continued.
"CCA also knowingly and fraudulently intended, again undisclosed to BML Properties, to use the project as a massive training exercise for its young and inexperienced cadre of workers, which doomed the project to failure, and without regard to its agreements and representations, but all at BML Properties expense......
"Due to CCA's conduct, BML Properties has incurred in excess of $2.25 billion in damages."
The lawsuit alleges that Mr Izmirlian and his Lyford Cay-based family have lost their entire $845 million equity investment in Baha Mar as a result of CCA's actions, which resulted in the failed Chapter 11 bankruptcy protection action, and subsequent provisional liquidation and receivership that ultimately ended with the project's sale to Chow Tai Fook Enterprises (CTFE).
"As a result of defendants' acts and omissions, BML Properties lost its entire $845 million equity investment in the project, incurred additional hundreds of millions in losses, and lost its right to all the future benefits of running a world-class multi-billion dollar resort with unparalleled amenities, including luxury hotel rooms and suites, golf, a massive pool and beach area, and the Caribbean's largest luxury casino, on property that the Government of the Bahamas had originally suggested to Sarkis Izmirlian (an experienced real estate developer and the chairman of Baha Mar) that Baha Mar Ltd acquire and redevelop," the legal filings claim.
The New York-based lawsuit epitomises Mr Izmirlian's 'never say die' attitude, and his determination to recover his family's equity investment in the Cable Beach-based mega resort along with damages for the wrongful conduct he believes was committed against him.
However, the action is also a tacit admission that his already-faint hopes of regaining Baha Mar have been dashed. The documents make no mention of seeking to overturn the property's sale to CTFE, or of any effort to sue the Bahamian government, and some may also interpret the filing as a sign that Mr Izmirlian has run out of patience with the Minnis administration.
While the New York action may be a 'battle' solely between Mr Izmirlian and CCA, with no major consequences for Baha Mar and its resort operations, the extent of the allegations against the contractor raises further questions over why the former Christie administration was so eager to go 'all in' with the Chinese and side with them against Mr Izmirlian.
Many observers believe the previous government's desperation to ensure Baha Mar was open, employing thousands of Bahamians before the May 10 general election, led it to act as it did. There have also been suggestions that it feared the awarding of construction-related contracts to family, friends and political supporters, as highlighted by the e-mails of former Cabinet minister, Jerome Fitzgerald, may have been exposed had the Chapter 11 case been allowed to continue.
Regardless, the Baha Mar dispute's handling remains akin to the 'spectre of Hamlet's Ghost' for the former administration - it just will not go away, and continues to haunt it. One senior attorney, speaking to Tribune Business yesterday on condition of anonymity, also described it as "the gift which keeps on giving".
They suggested that the pre-trial 'discovery' process could produce "very interesting" documents concerning the Christie administration's Baha Mar actions, and even result in some members of the former government being called to act as witnesses should the matter proceed to trial.
"It's going to be very interesting, the kind of discovery they're going to get," the attorney said. "I wonder if there's going to be any documents the Government of the Bahamas will have an interest in?
"That's going to be very interesting. That may have enormous residual fall-out questions against the former government."
Mr Izmirlian and BML Properties, meanwhile, claimed that CCA and its Bahamian affiliate knew as early as 2012 that they were falling behind schedule and would not complete Baha Mar on time due to an insufficient Chinese labour force.
The contractor, knowing it would be exposed to a multi-million dollar claim for poor workmanship and delays, then allegedly concocted a strategy to ensure the project did not open "before it had in hand 100 per cent, or as near to 100 per cent as possible, of its expected (even if unearned) payment for construction of the project.....
"CCA had to be in a position to force payment even on its fraudulent claims for additional costs or alleged delay," Mr Izmirlian and his investment vehicle charged, alleging that the contractor knew it "had to cover up the truth about the status of every key element" of its work from 2012 onwards.
"CCA knew that it had to use work stoppages and work slowdowns (in co-operation with its sub-contractors, the bulk of which were also affiliates of CCA's ultimate parent, China State Construction Engineering Corporation (CSCEC)) to extort commercial settlements before substantial completion," Baha Mar's original developer claimed.
"CCA knew later in the project that it had caused and/or would cause well in excess of 242 days of delay, thereby exposing CCA to the contractual maximum amount of $50 million in liquidated damages due Baha Mar Ltd for such delay, and thus the only way to avoid imposition of those damages was to compel BML Properties (through fraudulent and extortionate means) to negotiate before any back-charge for the liquidated damages would be taken (at the earliest in January 2015)."
Mr Izmirlian branded CCA's November 2014 promise of "a massive influx of workers" to complete Baha Mar by March 27, 2015, as 'a big lie'.
He claimed that CCA, having realised as early as 2012 that it would not hit the original December 2014 opening date, had decided "to squeeze every dime out of the" $2.45 billion loan from China Export-Import Bank that was financing Baha Mar's construction.
Accusing CCA of putting its narrow financial interests first, Mr Izmirlian alleged: "Accordingly, CCA's entirely undisclosed and fraudulent intent in 2012 and thereafter included a plan to delay 'opening' of the project until it could negotiate its way out of the disputes it knew would arise, and concerning which it believed it had material exposure.
"CCA never intended to achieve the interim milestones and overall completion date(s) it represented after 2012 that it would achieve, over and over again, and intended to hide for as long as it could its inability to achieve those milestones and its disregard for whether it could or could not achieve those milestones."
Mr Izmirlian argued that CCA's alleged misrepresentations prevented the developer from taking action to remedy the construction woes, and he further claimed: "As the project moved into late 2014 and early 2015, CCA as well undertook to sabotage forward progress of the work, intentionally damage and disable life-safety, security and electrical supply systems to try to compel BML Properties and Baha Mar Ltd to accede to its demands on sham payment applications and on fraudulent 'commercial claims'; stage labour walk-offs when it was already critically delayed in delivering the project; intentionally slow-down work at the project (a fact admitted by CCA's executive at a meeting with the then-Prime Minister of the Bahamas in April 2015); and divert equipment and executive and labour effort to its newly purchased competing project just a few miles from the front door of Baha Mar."
The original developer branded the process by which Baha Mar was sold to CTFE as "secretive and suspect", given that all details remain sealed by the Supreme Court at the China Export-Import Bank's request.
And Mr Izmirlian also described the $145 million 'remobilisation' fee paid to CCA to complete the project's construction as a "bail out", given that much of the equipment, materials and manpower required were still in the Bahamas at the contractor's The Pointe project, adjacent to the British Colonial Hilton.