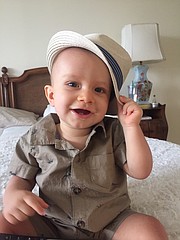 TWO-year-old Aidan Roger Dupuch Carron, son of Mr and Mrs Robert Dupuch Carron, died in Baltimore, Maryland, on Christmas Eve after losing his long battle with cancer.
Aidan spent 515 days of his short life battling therapy-related Leukemia which was caused by treating the lethal auto-immune disease he acquired from vaccinations given when he was six-months-old.
Specialists at Miami Children's Hospital and John Hopkins Childrens Hospital worked tirelessly with Aidan and his family to try and beat this highly aggressive Leukemia
On his second birthday, November 24, Aidan was discharged as an out-patient but sadly just a month later, at 8.24am on Christmas Eve he finally lost his battle for life.
Death came quietly Sunday morning. Aidan's parents – Robert and Elizabeth – each held his hands, his mother stroking his brow while his grandmother, Tribune publisher Eileen Carron held his feet in her hands, the Gregorian chant playing quietly in the background.
Aidan's mother Elizabeth said: "Aidan was an amazing child who lit up our lives every day. He was so brave and an inspiration to everyone who came into contact with him through his ordeal. In the end the battle just proved too much. We will forever carry him in our hearts."
The family is still in Baltimore and a funeral date will be announced for later next week.
• For the full obituary see today's Obits section.