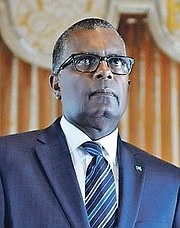 By MORGAN ADDERLEY
PROGRESSIVE Liberal Party (PLP) Chairman Fred Mitchell has called on the government to explain The Bahamas' decision to abstain from a controversial United Nations (UN) resolution against the United States recognition of Jerusalem as the capital of Israel.
The former minister of foreign affairs said the current government should have provided "an explanation of (the) vote" or a written statement elaborating "why we took the course we did".
Earlier this month, US President Donald Trump overturned decades of US foreign policy when he recognised Jerusalem as Israel's. He also vowed to move the US embassy from Tel Aviv to Jerusalem. Last Thursday, an emergency vote at the UN General Assembly saw a huge majority reject this decision.
Thirty-five countries abstained from the vote, including Canada and The Bahamas. In his statement, Mr Mitchell said, "The government speaks for the country on foreign policy matters so there must be something within their peculiar knowledge that led them to vote as they did, that is to abstain in the vote on Jerusalem.
"The PLP tries to avoid division beyond our borders in foreign policy.
"Some observers argue that it is however difficult philosophically to reconcile our support for the principle of the two state solution and the larger UN peace process for the Middle East and our actual vote.
"Whatever the position is, however, the PLP believes that foreign policy requires the public to be properly briefed on our positions once taken. In this case, the government ought to have provided a written statement called 'an explanation of vote' to say why we took the course we did."
US Ambassador to the UN Nikki Haley warned the US would "take note" of countries that "disrespected" America by not supporting their action.
Foreign Affairs Minister Darren Henfield said last week The Bahamas' decision to abstain was not a result of being "bullied" by the US, but due to a belief "every sovereign state can determine and declare where they will put their mission, an embassy."
Mr Henfield continued: "We didn't see the need to interfere with the Americans' decision to put their embassy in Jerusalem. Abstention doesn't mean agree or disagree, what we must do is contextualise that a resolution is just a resolution and you may not agree with all the contents of the resolution before you. And so you have to contextualise everything and determine what's in the best interest of our country."
More like this story