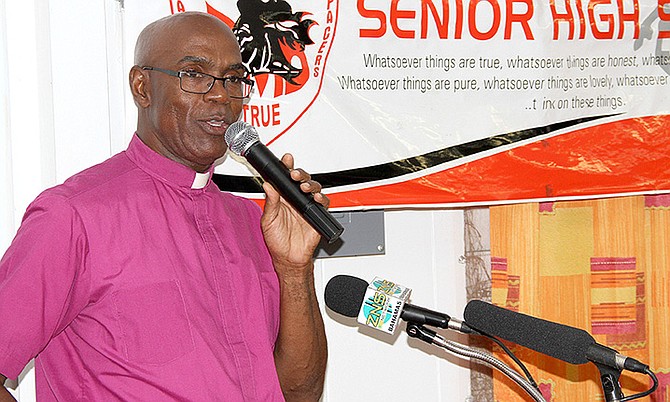 By RASHAD ROLLE
Tribune Staff Reporter
rrolle@tribunemedia.net
ANGLICAN Archdeacon James Palacious issued an apology on Friday for his recent statements about the impact of how women dress, admitting his words "could very well be seen as victim blaming".
In a Facebook post about Junkanoo tips last week, the Royal Bahamas Police Force advised that "if you appropriately dress, it takes away the chance of being groped or touched in an inappropriate manner."
The advisory proved controversial.
In comments published Friday, Father Palacious defended the police force's decision to exhort people how to dress to ward off unwanted attention but also emphasised that women have a right to dress how they please without being subjected to such attention or groping.
Following criticism of his comments, Father Palacious released a statement to The Tribune on Friday.
The statement read: "I write this statement further to my two interviews with the Guardian and the Tribune on Thursday past.
"I make reference specifically to the widely circulated report of my comments on the Facebook page of the Royal Bahamas Police Force in which it talked about the way some females dress, and urging them to dress 'appropriately.'
"While I am prepared to stand by what I did say in the interviews and what was reported, there are some things that I should have said that would have brought more balance to my statement and position.
"Both articles report me as emphasising that a woman has a right to dress the way she sees fit. I went on to say that however scantily a woman is dressed, men ought to respect them and not believe that they have the freedom to grope them. This is wrong and it is a crime.
"In retrospect, my statements should have emphasised more the need for men to restrain themselves and not grope females. Such behavior is criminal and the police's warning should have emphasised that rather than just refer to the way women are dressed. Our police do an excellent job of constantly emphasising zero tolerance policies as it pertains to things like drugs, burglary and murder, the same sort of passionate energy should be used to emphasise the pursuit of justice for crimes against women. As a society, the conversation should move from a focus on women's clothing to the way we treat and respect women and each other at large.
"Because this emphasis was missing from my original discourse, there is good reason for me to be accused of blaming the victim, and for that - the idea that the victim is anyway responsible - I apologise.
"I have been vocal about my support of gender equality. Furthermore, both newspapers reported my unequivocal stand of support for legislation to criminalise marital rape. This is a position I held from 2009 and is more representative of the high esteem in which I hold womanhood and the rights of woman over their bodies whether they are married or not.
"We must teach men proper respect and appreciation for women.
"Once again, I apologise for statements that could very well be seen as victim blaming."
More like this story