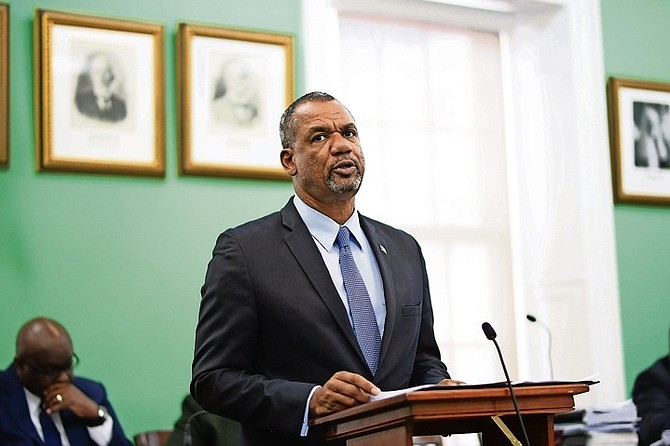 By RICARDO WELLS
Tribune Staff Reporter
rwells@tribunemedia.net
EDUCATION Minister Jerome Fitzgerald yesterday said the onus for recent violent incidents on school campuses must fall on the wider society, further lamenting that officials have done everything they can to stop school violence.
Mr Fitzgerald, in his first public comments on violent crimes at school campuses since the stabbing incident at the Government High School campus earlier this month which left one teen in critical condition and two others with injuries, said the presence of police and heightened security forces have dramatically "cut down" incidents but the core issues spurring these matters had to be addressed in the community.
Stressing how key "vigilance" has been for the staff and personnel at school campuses, the Marathon MP said schools have now grown to mirror every occurrence seen throughout society.
"We just have to be vigilant and at the end of the day, unfortunate as this is and it really breaks my heart whenever I hear of an incident like this, but I continue to say that our schools are just a microcosm of our society and our communities.
"(Government and education officials) have done everything we can to keep (violence) away from our school campuses and to a greater extent, the job that has been done over the past few years has been commendable," said Mr Fitzgerald.
The Marathon MP added that more still has to be done to further limit the occurrences of violence on school campuses, asserting that whenever incidents similar to what occurred at Government High School happen, "it is one too many".
To that end, the Education Minister said he and his Ministry has taken a "zero tolerance" to violent incidents on campuses.
"I have said from day one, I have a zero tolerance for crime and any incident that happens involving crime on school campuses. We have moved extremely swiftly, to use that word, even if it means the prosecution of individuals involved. We have moved swiftly with that as well.
"So I have been very serious, the ministry has taken a zero tolerance and I think you have seen the results of that over the years," added Mr Fitzgerald.
In the wake the latest incident, there has been an increase in calls for tougher policies and heightened police presence at schools.
Among others, Marvin Dames, the former deputy commissioner of police and the Free National Movement's candidate for Mount Mariah, said this month that metal detectors should be placed at entrances into junior and senior high public schools.
Mr Dames also called for the presence of additional security guards on campus.
Despite those calls, however, there have been segments of society that have spoken in support of the government looking to address this issue at a social and psychological level.
Project Youth Justice (PYJ), a legal aid service organisation for youth in conflict with the law, said actions like the ones proposed by Mr Dames will prove counter productive amid a justice system that often inflicts overly harsh punishment on youth.
The organisation said the government must avoid transforming our public school system into a pipeline that funnels our young people into the formal criminal justice system to be abused by adult inmates and conditioned into hardened criminals.
The Government High School incident was the first of its kind reported for the year.