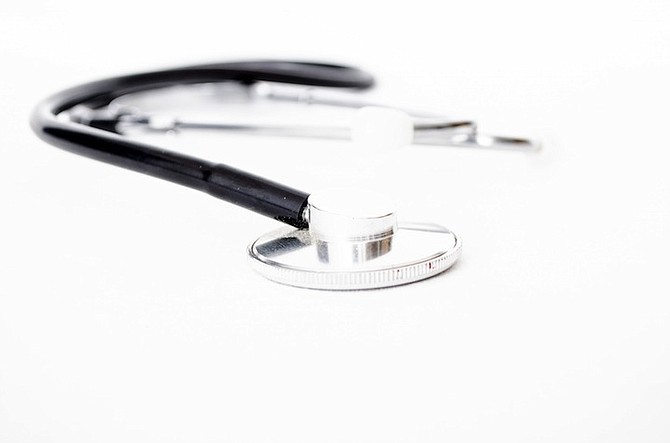 By NICO SCAVELLA
Tribune Staff Reporter
nscavella@tribunemedia.net
GOVERNMENT officials yesterday announced the launch of National Health Insurance's primary care physician registration, which NHI senior officials said is a "critical milestone" that signals the "initiation" of the second phase of the government proposed scheme.
However, there is still no clear indication by NHI officials as to when that registration process is expected to be complete, which is what has to happen in order for the commencement of the second phase of NHI, enrolment, to be fully realised.
NHI Secretariat Permanent Secretary Peter Deveaux-Isaacs said yesterday that "many doctors" have already indicated an interest in registering for NHI, giving the impression that registering the interested primary care providers (PCPs) should be an expedient process.
Additionally, NHI Project Manager Dr Delon Brennen said based on the "enthusiastic" response of various PCPs towards registering with NHI, officials are "assured that this process will happen in a timely manner".
Regarding just how many primary care providers are needed in order to properly segue into the enrolment phase, or an expected number of the same, Bahamas Doctor's Union (BDU) President Charles Clarke yesterday estimated it would take "about 90 physicians".
However, noting that that number "varies," Dr Clarke said it would need anywhere from 90 to 120 PCPs.
Dr Brennen said the NHI Secretariat is encouraging PCPs to register with NHI as soon as possible, adding that "the sooner you're involved the sooner you'll be in the database of our primary care providers and that will allow our beneficiaries to be able to chose you as your primary care physician."
Nonetheless, Dr Brennen insisted that based on the positive feedback NHI officials have received from various PCPs, executing the enrolment phase of the proposed scheme should not be an issue.
"…We have garnered lots of enthusiasm from our primary care providers, so we do look forward to quite a number of them being involved," he said. "And I think as evidenced by the amount of discussion you've heard in the marketplace and through the media, that they are interested in what is coming out as a product and many of them have expressed their interest to us both in public and in private that they are willing to be a part of it."
He added: "Not every provider in the country is a primary care provider. Many of our providers are practising in specialties or sub-specialties that are outside of the benefit package for National Health Insurance Bahamas. So we can't say that it really matters that everyone is involved. We know that we have the support of a number of primary care providers that will be required to be in, so I don't think we'll have an issue with being able to deliver the service."
NHI will be rolled out in five phases, according to government officials, beginning with the registration phase, which started last year with the issuance of the new NIB smart cards.
That phase is followed by the enrolment, primary healthcare coverage, select catastrophic coverage, and full benefits coverage phases, respectively, according to the NHI website.
Regarding when persons will actually be able to use NHI, Dr Brennen said that depends on how swiftly the PCP registration exercise is conducted and subsequently concluded, and ultimately how quickly the NHI Secretariat transitions into the ensuing stages.
However, it should be noted that the launch date for the $100m primary care phase has been pushed back to May 2017, as per notes obtained by The Tribune from last week's meeting of the Universal Health Coverage (UHC) Stakeholder Advisory Council.
The primary care phase was initially supposed to be launched in April of last year, but has since been postponed several times.
Dr Brennen had previously said that the launch would take place during the first quarter of this year.
"Once people have their NIB smart card, and we open enrolment, that is to come as soon as we have our primary care providers on board, then once that process is completed we'll be able to launch with the service," Dr Brennen said when asked about the matter.
About a possible timeframe for the aforementioned, he said: "…We don't have a timeframe because we are dependent upon making sure that our providers are provided with the information that they need, and that they then sign on as registered providers.
"We do know, given the providers we had an opportunity to interact with, many of them are enthusiastic getting that started, it's evidenced by people coming in and saying they are supportive of the programme, so we are assured that this process will happen in a timely manner, and as that happens we'll be able to then open enrolment."
In order to register with NHI, PCPs will need to complete and submit a "self-assessment form," which he said is for determining if their respective facilities qualify "to deliver services under NHI Bahamas." He noted that only the following PCPs are eligible: family doctors, general practitioners, general internists, obstetricians, gynaecologists and paediatricians.
Upon submitting the application, applicants will be provided with a reference number via confirmation email, Dr Brennen said.
Following the aforementioned, he said PCPs will be contacted by the Hospitals and Healthcare Facilities Licensing Board to schedule an inspection of their facility. Proof of malpractice insurance for each physician and licenses or certificates of "all other health professionals" listed in any facility must be provided to the inspector during the inspection.
Dr Brennen said after the inspection, providers will be contacted by NHI Bahamas, at which time "the result of the inspection will be communicated." PCPs can be graded as "registered with merits", "registered", "provisional registration" or "no registration." There is the option of discussing with NHI officials should any one provider not succeed in passing the inspection, Dr Brennen said.
"This is exciting because I know that healthcare providers in this country are committed to providing quality care to all who need it," he added. "The close relationship and standards set by NHI Bahamas and the hospitals and healthcare facilities licensing board is helping to raise the standard of healthcare across the board in both the public and private sector," he said.

"All facilities under NHI Bahamas must meet this standard. This will ensure our system will improve and patients will reap the benefits from this increase quality of care."