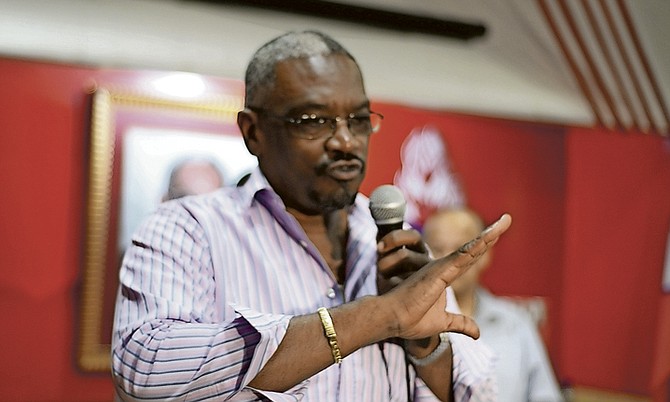 By SANCHESKA DORSETT
Tribune Staff Reporter
sdorsett@tribunemedia.net
FREE National Movement Leader Dr Hubert Minnis yesterday said it is "shameful" that after two hours on the radio airwaves, Minister of State for Finance Michael Halkitis could not explain to the Bahamian people "where the VAT money gone".
He was responding to Mr Halkitis' defensive demeanour to criticism of a value added tax (VAT) speech he gave at the PLP convention last week.
In a statement, Dr Minnis said Mr Halkitis' explanation on where the revenue from VAT went was "inadequate and insulting" and "does not reflect the type of servant leadership that the Bahamian people desire".
On Monday, Mr Halkitis, while appearing as a guest on "The Revolution" with host Juan McCartney maintained that the VAT money is being used to pay down the national debt as well as defray other government expenses.
He also insisted that there can never be a true account of where the VAT money is spent because the money "goes into the consolidated fund with all other government revenue".
This was a different tone from the approach he took last Tuesday, when he announced that the government spent "millions of dollars" on roads, facilitated a new fleet of aircraft at a cost of $100 million, invested in a new fleet for the Royal Bahamas Defence Force at a cost of $232 million and several million was spent to fund repairs after both Hurricane Matthew and Joaquin. "That's where the VAT money gone," he said repeatedly.
He also claimed that VAT revenue was being invested in new schools, however no new schools have been built under this administration.
Throughout the show, Mr Halkitis was accused by another journalist of being disingenuous during his convention speech because many of the projects he claimed the VAT money has gone towards were actually serviced by loans.
"Michael Halkitis has done a great disservice to the Bahamian people by continuing to obfuscate on exactly how the people's VAT dollars have been spent," Dr Minnis said on Tuesday.
"It is shameful that a member of Parliament, who is answerable to the people, and a certified financial analyst to boot, would consider it a viable excuse that he was unable to explain how the people's money has been spent because he only had 10 minutes to speak at his party's recent convention. Mr Halkitis had two hours to explain himself on national radio, and still could only offer one insulting and inadequate excuse after the next.
"The minister even denigrated his own party supporters by saying that his speech at convention was aimed at PLPs and 'not bankers or accountants'. What a disgrace. This type of behaviour is far from honourable, and does not reflect the type of servant leadership that the Bahamian people desire. This type of elitist behaviour is unbefitting for a minister of the government who works for, and on our behalf."
Dr Minnis said an FNM government would be transparent and accountable to the people.
"It is now clear, more than ever, that it will be up to your Free National Movement government, to provide the people with a true accounting of our VAT money," Dr Minnis said.
"The Bahamian people desire transparency and accountability. They will receive both under the Free National Movement. We urge all Bahamians who have had enough of the excuses to register to vote. This is your time to show this government that enough is enough."
Nearly, $1 billion has been collected since the implementation of VAT in January 2015.