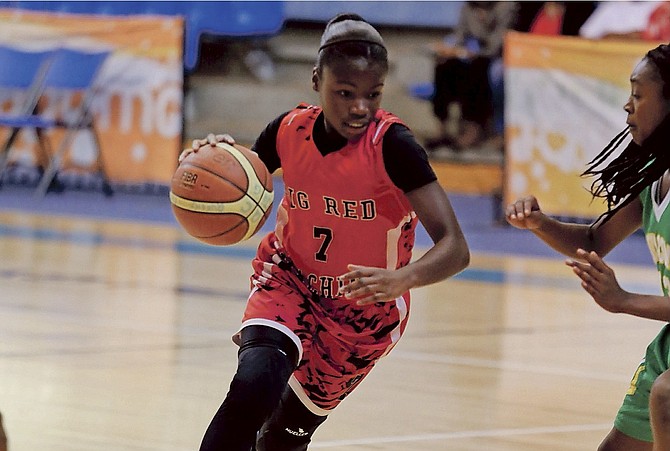 By RENALDO DORSETT
Sports Reporter
rdorsett@tribunemedia.net
The St Augustine's College Big Red Machine's junior girls basketball programme returned to the top spot of the division following a two-year hiatus.
The Big Red Machine closed out a two-game sweep of the defending champions Queen's College Comets with a 37-26 win yesterday at the Kendal Isaacs Gymnasium.
Following the experience of a heartbreaking loss in last year's semi-finals, Big Red Machine head coach Anastacia Sands-Moultrie said the team was determined to correct the mistakes of last year.
"Last year, we should not have lost in the playoffs. We were up and rejoicing before the whistle went off and we had a girl come right there and make a last second shot to beat us by one point," she said.
"This year and all season long we preached that the whistle ends the game and we play until the whistle blows. They had a few lulls there but they corrected it before the end of the game and it was the difference down the stretch for us."
Karolyn Baptiste scored a game high 13 points while Makayla White scored eight. Baptiste scored the first six points for SAC all at the line and the first nine points of the game from both teams all came at the line as SAC took a 6-3 lead. QC made the first field goal of the game to pull within one (6-5) at end of the first.
Baptiste scored the first SAC field goal, and converted a three-point play to make the score 9-5. G Murphy was the first player from SAC other than Baptiste to score and her rebound and putback sparked a 7-0 run.
The Big Red Machine held the Comets scoreless in the quarter until the 33-second mark when D Lightbourn made a baseline jumper for two of her team high 12 points. SAC led 13-7 at the half.
After being held scoreless in the first half, Whyte got into the act scoring with a putback and a runner to push the lead to 10 (17-7) with 4:15 left in the third quarter.
The Comets responded with a 7-0 run to pull within three but Baptiste stopped the run with a fastbreak layup to regain a two-possession advantage.
Tied at 21 with 5:35 left to play, SAC would outscore QC 16-5 the rest of the way.
After a Lightbourn layup gave the Comets a brief 23-22 lead, SAC went ahead with scores from Whyte, Baptiste and Albury to go ahead for good.
With the 2017 title in hand, Sands-Moultrie said she is looking ahead to building players for the senior level and beyond.
"It's been an up and down battle. We were fighting hard to get the girls to the skill level I wanted them at. They are almost there, but I'm not only conditioning them for the junior level, I'm also getting them ready for the senior level," she said. "Most of them want to go off to college. So I tell them you have to be working hard. Some of them when they get to the senior level they slack off, but at least they will have the foundation from the junior level. Females are so much different than males and it's harder to coach them. You have to get them while you can."