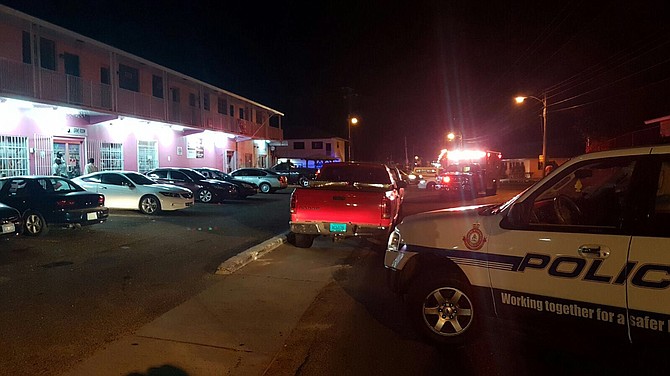 A SPATE of shootings in Nassau on Friday night and Saturday has left two men dead, five in hospital and police investigating five separate incidents.
On Saturday around 8.40pm, officers were called to the scene of the fatal shooting of a man at St Vincent Road and Faith Avenue near the Kryptonite restaurant and bar.

Chief Superintendent Clayton Fernander, officer in charge of the Central Detective Unit, said: "A group of young men were playing a game of dominoes at this business establishment ... when a lone gunman fired several shots at them. As a result an adult male was shot to the body and he died on the scene." He said police did not know the motive at this time.
Police reported the suspect sped off in a dark vehicle.
It was the second killing in 24 hours in the capital and pushed the country's homicide count to 19 for the year, according to The Tribune's records.
Then shortly after 10pm, a man was standing on Washington Street when a man with a handgun approached and shot him before fleeing on foot. The victim was transported to hospital where he is detained in stable condition. Police have launched an island wide hunt for suspects in these two cases.
In the first fatal first incident, shortly before 7.30pm on Friday, police reported that two men were sitting in a vehicle on Durham Street, off Mount Royal Avenue, when two men with handguns approached and shot them before fleeing on foot.
The two men were taken to hospital where one of them succumbed to his wounds. The other man remains in serious condition.
Shortly before midnight, a man was sitting in his Honda Civic on St Cecilia Street, Chippingham, when a man with a handgun approached and robbed him of cash and a gold chain, according to police reports. The gunman then took the victim's car and shot him before speeding off. The victim was taken to hospital where his condition is listed as stable.
Police are also investigating a shooting incident on Coconut Grove Avenue shortly after 9am on Saturday.
According to reports, two men were shot to the body by two men in a champagne-coloured vehicle that sped off. The victims were taken to hospital where they remain in stable condition.
Police have also reported they have taken four illegal weapons off the streets of New Providence in separate incidents during the past 48 hours.
Shortly before 9am on Thursday, Drug Enforcement Unit officers, acting on information, went to a bushy area on Saki Street off Soldier Road, where they uncovered a 9mm pistol with two rounds of ammunition.
A short while later, a concerned citizen handed over to police an AK–47 assault rifle with 21 live rounds of ammunition.
Around 4pm, Selective Enforcement Team officers were on routine patrol on Fowler Street, off East Street, when a man walking aroused their suspicion. On seeing the officers he threw a firearm to the ground and fled on foot. The officers gave chase but were unable to catch the man. The firearm was recovered and found to be a .40 Austria Pistol with 11 rounds of ammunition.
Shortly before 9am on Friday, Firearms Tracing and Investigation Unit officers, acting on information, went to Bailey Drive, Coral Harbour, where they uncovered a 12 gauge shotgun.
No one was taken into custody in connection with these seizures.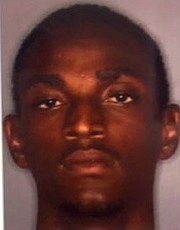 On Saturday police released a wanted poster for 27-year-old Shawn Brown, aka Fire, of Rupert Dean Lane for conspiracy to commit murder. He is described as between 5ft 8in and 5ft 11in, of dark brown complexion and slim build. Anyone with information on his wheareabouts is asked to contact the Central Detective Unit at 502 9991 or 502 9992.