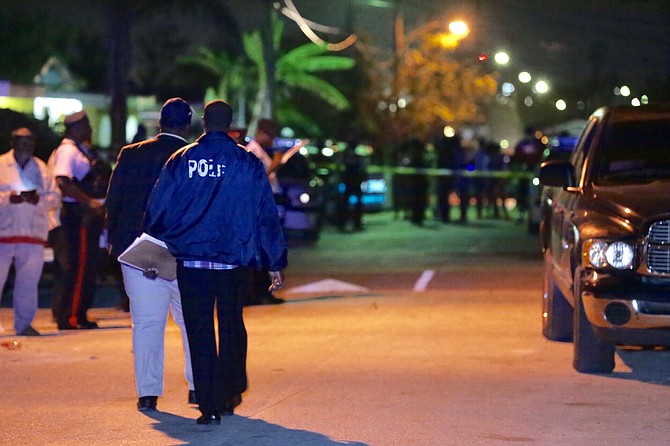 By SANCHESKA BROWN
Tribune Staff Reporter
sdorsett@tribunemedia.net
POLICE are investigating the fatal shooting of a man after an altercation outside a West Bay Street night club early on Monday. The killing took the murder toll of a bloody weekend in Nassau to seven.
According to police reports, the man was shot just after 2am during an altercation and transported to hospital. He died around 8am. Police said they have a suspect in custody assisting them with their investigation.
There have been 13 homicides in 13 days in February and the weekend murders take the toll for the country for 2017 to 27, according to The Tribune's records.
Despite the bloody weekend, Assistant Commissioner of Police Stephen Dean said "hundreds" of police officers were patrolling the streets over the past few days in an effort to keep the public as well as visitors safe.
Meanwhile officer-in-charge of the Central Detective Unit, Chief Superintendent Clayton Fernander implored parents after a killing on Friday to "keep a watchful eye" on their children, especially their young boys.
Chief Supt Fernander said police have launched a massive manhunt for the suspects in the weekend killings.
With regards to the sixth shooting death, Assistant Commissioner of Police Stephen Dean said that, shortly after 8pm on Sunday in Yellow Elder Gardens, a man was sitting in the front of his home on Derby Road with two other persons when the suspects with handguns came and shot him. They fled on foot.
"All of our officers are out on the road and streets tonight trying to find these killers," ACP Dean said. "This is not the only incident we are investigating. We are investigating several incidents over the weekend and we want to bring these persons to justice."
The fifth shooting of the weekend took place at about 11pm on Saturday, also in Yellow Elder Gardens. According to police reports, the victim was standing outside his home on Graham Drive when the occupants of a white Nissan vehicle pulled up and shot him multiple times before speeding off.
The victim was pronounced dead on the scene.
An hour earlier, around 10pm, police were called to the scene of a shooting at a party on Deans Street.
Police say a group of persons were attending a celebration when the occupants of a blue self-drive vehicle pulled up and fired several shots into the crowd before speeding off.
Two men were shot and taken to hospital by ambulance. One man died shortly after arrival and the other victim is listed in critical condition.
Earlier on Saturday around 12.30am, officers responded to another shooting incident at a party this time in the East Street area.
According to police, a group of persons were at a nightclub off Lewis Street, when an argument broke out that led to a man armed with a handgun firing several shots into the crowd.
One man was shot as he attempted to leave in his vehicle; he was pronounced dead at the scene. Another man was taken to hospital where he later died of his injuries.
The final shooting incident took place shortly after 7.30pm on Friday. Police said the 15-year-old victim was walking across Dale Park in Peardale when he was approached and shot by a gunman, who fled on foot.
Chief Supt Fernander said the teen was "well-known" to the police and "was in and out of custody for questioning on a number of serious matters".
Chief Supt Fernander said officers did not know the motive for the shooting, however he said police believe the victim was targeted.
He also said police were not ruling out a connection to the murder of 23-year-old Benjamin Anderson, of nearby Ida Street, who was described by police as a "prolific offender".
Anderson was shot multiple times and killed while standing in front of his home on Tuesday, February 7.
Chief Supt Fernander asked parents to keep a closer eye on their children.
"A little boy in his early teens, where are the parents? Parents have to pay attention to their children, especially the young men and I will continue to say, we are losing our young men as the victims and the accused persons. I am appealing to parents please pay attention to your kids, especially the young men," Chief Supt Fernander said.
In an interview with The Tribune, ACP Dean said police are "doing an excellent job" arresting persons who have committed serious crimes, however he said crime is not just "a police problem".
"We have five persons going before the court tomorrow (Monday) for murder and other serious offences. We have also arrested a lot of persons in relation to firearms and firearm smuggling. We continue to do good work, despite what is happening, we are doing our job everyday but if we depend on just the police, crime will not go down. Everyone must do their job, come to the police with the information and help us get these persons off the streets."
Anyone with information on any of these incidents is asked to contact police at 911 or 919, the Central Detective Unit at 502-9991 or Crime Stoppers anonymously at 328-TIPS.