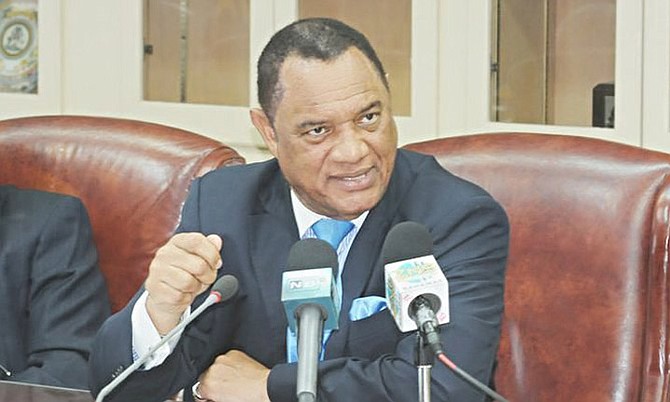 By NICO SCAVELLA
Tribune Staff Reporter
nscavella@tribunemedia.net
PRIME Minister Perry Christie yesterday likened the Bahamas' crime situation to the "Wild West," as he said the recent wave of murders in the capital must solicit a "major" and "continuous" effort by his administration to "flood the streets" with officers in a bid to do "all that is necessary to bring this madness to a halt".
Mr Christie, speaking with reporters yesterday, said the "madness" occurring is due to gang activity and retaliation.
He said the past bloody weekend is a "shocking development" that will require the government to do much more to "fully understand this senseless set of killings," and have law enforcement respond "as quickly as possible" and in a "very meaningful way" in their crime fighting efforts.
These efforts, Mr Christie suggested, would likely include dedicating a "substantial" number of officers to patrol the streets of New Providence and simultaneously giving them "the capacity to interdict the movements of people on the streets," incorporating more reserve police officers, and "if necessary" incorporating Royal Bahamas Defence Force marines in policing efforts.
Mr Christie also said he would be speaking with National Security Minister Dr Bernard Nottage and Commissioner of Police Ellison Greenslade about implementing a "random exercise" where police stop and search vehicles that are carrying more than two persons.
Mr Christie's comments were in response to a bloody few days which saw seven people killed since Friday, including a 15-year-old juvenile.
Three people were also left in hospital on Monday after a man was stabbed and two others were shot in two separate incidents.

The most recent killing occurred about 15 hours before Mr Christie made his statement yesterday afternoon, when a man was shot during an argument outside a West Bay Street nightclub just after 2am. He was taken to hospital and died around 8am, according to police reports.
Thus far, there have been 13 homicides in 13 days in February and the weekend murders take the toll for 2017 to 27, according to The Tribune's records.
"Clearly this is a shocking development in our country," Mr Christie said on the sidelines of an event at the One&Only Ocean Club. "...It's clearly where we're going to be required to do much more to have a greater capacity to meet the challenge that is going to be posed to us, to fully understand this senseless set of killings, retaliations, and to have our systems respond to it as quickly as possible and in a very meaningful way with a view to demonstrating that we're not going to be able to accept or continence this kind of conduct and behaviour from those who are committing it.
"It is insane, it is reminiscent of the Wild West, and it is something we must get under control as quickly as possible."
When asked which policies his administration would be seeking to implement to combat the recent uptick in criminal activity, Mr Christie said: "Whatever crime plan we have it has to be based on dedicating a substantial number of officers to the streets and giving them the capacity to interdict the movements of people on the streets. You have to have a massive presence on the streets. And to the extent that that is necessary, it means incorporating more reserve police officers, it means if necessary incorporating the defense force in complementary ways, but it means dedicating all that is necessary to bring this madness to a halt.
"And so when you ask about a crime plan, we all know that you cannot control the mind of someone who is intent on killing or who is being induced to do so through their association with gangs. But we are able to know that they have to go through point to point, and we have to dedicate the resources immediately, day and night, to intercept them as they're moving from point to point. In one way or the other that has to be done in a more meaningful way. I've always known it, I've always believed it, and that has to be the order of the day."
He added: "The government has given over 300 police officers, we've just had continuous training classes of police officers, so we have given the police force the manpower, the equipment, we're trying our best to give the technology, but this madness has to do with gangs and retaliation. And in retaliation you're guessing who you should kill in response to who was killed. There's no science to it. And you don't care who is present when you're doing it. There must be a major response to this, there must be a continuous response to it, and it has to be on flooding the streets with officers and equipment to be able to intercept and interdict."
Nonetheless, Mr Christie said combatting crime in the country, and in particular preventing weekends like the past one from recurring requires "an effort on the part of the entire population" and will ultimately depend on "how well we are able to work together dedicating all of the necessary resources in all the different diverse forms that is necessary."
He also said success in combatting crime will not occur solely by "equipping the police" or "arming the police with technology," but by "getting into people's homes where parents must know, have a sense of what their children are doing, and being able to get the kind of assistance from the home that we should ordinarily expect to happen in our country."
"…You hear about people going to parties and spraying the parties and social gatherings with gunfire," he added. "That is madness, it's not consistent with who we are as Bahamians. There is an unthinking group of persons out there who are intent on doing this. We cannot be lenient with people who are using guns and bringing in guns, and there must be very swift prosecution of them.
"All of these things are important as you look to the holistic approach, and that is there are challenges in homes, there are challenges in schools, there are challenges with young people, and clearly from a societal and sociological point of view, we have to examine the root causes and be able to have medium term, long term strategies to deal with it," Mr Christie said.
"But in the meantime we have to put up a wall, so to speak that cannot be penetrated when it comes down to slowing down what is happening now. . . there is something seriously going on. And if it is not stopped it is out of control."