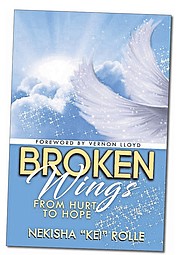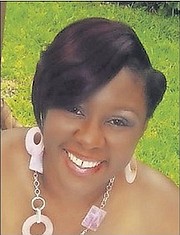 By JEFFARAH GIBSON
Tribune Features Writer
jgibson@tribunemedia.net 
Author Nekisha Rolle is opening up about her journey of overcoming depression and heartbreak in the hopes of inspiring others to find the courage to do the same.
In her new self-help book, "Broken Wings: From Hurt to Hope", she shares with readers her story of navigating through the fog of depression and pain by never giving up hope.
Ms Rolle, a Nassau native, has worked in the education sector as a technical officer in the Department of Education for more than 10 years. In addition to her full-time job, Ms Rolle strives to help people heal – a task she believes she was called on to do by God.
This Friday she will be a featured guest at the "Love Lessons" event presented by Eve's Journey. It will be held at the Sybil Blyden Centre, Dolphin Drive, beginning at 6.30pm. During the seminar, Ms Rolle will discuss her new book and how she became serious about healing herself and others. 
"This book was inspired by and written for anyone who is experiencing brokenness, deep hurt or a loss of self-worth. It also centers around those who know what it means to live through the most painful experiences of their lives. I was in pain, I was broken, I battled with my self-worth and I realised that this hurt pushed me into depression that escalated in me not being happy with life and wanting to end my life," said Ms Rolle.
"The inspiration really came after watching the news broadcast on the death of famed actor Robin Williams and the report of his tragic death and his fight with depression. What stood out was when the newscaster said, 'How can someone who brought so much joy to the others die in such a tragic way?' This is when I wrote my story, after realising that many people are living double lives; they are hiding behind masks and need to be free. So many people are experiencing brokenness, pain and depression and they need to be open and honest about what they are going though. Many people need not be afraid of their pain. I decided to uncover my pain and show my scars and that is why I wrote the book. It was my way to heal and heal totally."
Some of the topics the book covers includes "How do you deal with betrayal"; "Heartbreak and brokenness"; "When love and life go wrong – what to do"; "Dealing with depression" and "Finding the strength to conquer life".
"Truth is, I really did not want to share my story. I wrote it as a testament of where I came from. I needed to come face-to-face with my pain. I needed to heal inside and out. I was intentional in my healing process to become a whole person for the next season of my life. I've since discovered too many people are living unfulfilled lives and have allowed hurt and pain to make them bitter, helpless, angry, alone and closed in. I needed to take my power back. I published after awhile, as I was convinced that maybe someone could be healed by this book. I told my story so many others can find the courage to tell their own," she said. 
One of the main things Ms Rolle hopes readers will take away from her book is the inspiration to find a way to free themselves from their pain. 
"I hope they look at the worst of themselves or their situation, to heal after their hurt and to look deeper to forgive, work on being better, pick up themselves and be intentional in living, be intentional in loving and finding happiness for their lives. I pray that readers or those who are broken discover the strength from within to never give up on life. Everyone deserves to be happy. Everyone deserves to be free. Everyone should have hope," she said.