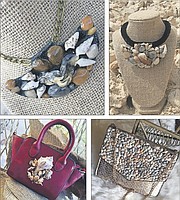 By ALESHA CADET
Tribune Features Reporter
acadet@tribunemedia.net
After the death of her mother, Mardia Powell found herself in a very dark place. But through art, and with the help of her friend Matthew Wildgoose, she was able to get back on her feet and find a new purpose in her life.
"One day (Matthew) mentioned a jewellery sketch I did while at the University of the Bahamas and said he always thought I would pursue jewellery design," she told Tribune Woman.
Mr Wildgoose, a fellow artist and entertainer, challenged her to design more jewellery, which led to the start of her accessories company Crab Toes.
Honouring her late mother, Ms Powell created the "Melt by Mardia" jewellery line under the Crab Toes brand. It was inspired by her mother's love for shell jewellery, straw bags and accessories.
"My goal is to merge the sophistication of fashion and design with elements of island style. My favourite brand is Chanel and I love its backstory that tells of such humble beginnings to the greatness it has come to now. My overall goal is to reach these heights and grow the brand on a wider scale internationally. I'd also like to expand into home and interior décor," said Ms Powell.
The Crab Toes is a home-based company that currently offers not only jewellery and accessories, but also graphic T-shirts, shell embellishments and various art.
Shoppers can also find her at festivals throughout the Bahamas. 
"As a business owner I'm always in work mode, even if I think up something while I'm dreaming I have to write it down. I never feel like I'm doing work. I can work hours without eating or even going to use the rest room because I'm so immersed in my work. I also love seeing the execution of my thoughts and them coming to life," she said.
"My mom always told me that my talent is in my hands. So whether it be baking, hairstyling, sewing or building something, I'm in my element."
Ms Powell graduated from the College of the Bahamas in 2008 and completed her Graphic Design studies at the Art Institute of Atlanta in 2012. She later worked as a graphic designer with Georgia Public Broadcasting and as an art teacher at the Lyford Cay International School .
"I have tremendous benefits solely on the fact that I'm a one-woman band. I am my own graphic designer so I create all my branding and the corporate identity. I cut corners by creating my own packaging, whether it be boxed packaging or custom sewn store bags, I do it all. I believe that your talent will always make room for you," she said.
"People are blown away with the unique touch that the Crab Toes brand carries. We usually hear that our pieces are so different and that they are extremely detailed."
Ms Powell believes this will be the year that Crab Toes will establish itself as the brand of choice for ladies jewelry and accessory wear in the Bahamas and abroad.
"We have a small vendor in Atlanta that also ships items to shoppers. Shoppers can like the Crab Toes Facebook and Instagram pages for more information. Our website will be up and running in the near future," she said.