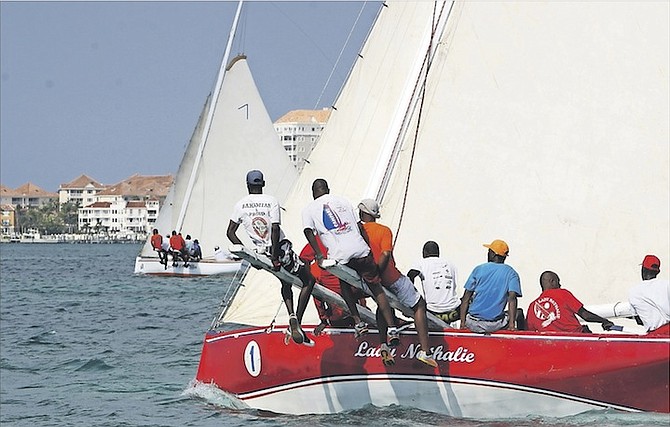 By BRENT STUBBS
Senior Sports Reporter
bstubbs@tribunemedia.net
WITH the Valentine's Day celebrations over and done with, Eleazor 'the Sailing Barber' Johnson now switches his attention to his 30th Annual St Valentine's Massacre in Montagu Bay this weekend.
Johnson will be staging his annual 'Catch Me If You Can' Regatta on Saturday and Sunday.
The regatta, according to Johnson, will provide an avenue for those persons who are still in love and even those who are not in love to come out and enjoy some competitive sloop sailing.
"When I first decided to put this on, we didn't have anything going on in Montagu after the New Year's Regatta," Johnson said. "But this was a way for us to do something right around the time everybody was still in the mood of celebrating love.
"When we put on the first one, we realised that a lot of people were looking forward to us putting it on again every year, so we decided that we will make it an annual event. It has been a big hit and every year people have been looking forward to it."
Dubbed the "Super Bowl" of sailing, Johnson said the regatta features competition in a three-race series in the C Class and the Optimist sailing for the junior competitors on Saturday, starting at 11am.
Then on Sunday, starting at 2pm, there's the highly acclaimed 'Catch Me If You Can' race where Johnson's B Class Lady in Red, Lady Nathalie is given at least a 20-minute head start over a number of A Class boats.
The object is for the Lady Nathalie to cross the finish line before she is caught by any of the A Class boats. "It's always a fun time because the A Class boats feel that even with the head start, they can still beat the Lady Nathalie," Johnson said. "It's not been easy because the Lady Nathalie is a fast boat. Not too many A Class boats have caught her."
Among the boats expected to compete in the A Class are the Southern Cross, Red Stripe, Good News, Ed Sky and Running Tide.
Lady Nathalie holds a 16-13 advantage over the A Class challengers, although the Red Stripe has come closer than any other boats in catching the Lady in Red. "It's always a challenge because I believe that there's no A Class boat out there that can catch me," Johnson said.
"I've had some very good captains over the years like Clyde Rolle, who knows how to sail the Lady Nathalie."
He said it's always some excitement when the race is staged on the final day of competition. He indicated that a lot of people show up on Montagu shore because they want to see if the Lady Nathalie will get caught.
Over the years, Johnson said he's had tremendous support from corporate Bahamas in helping to make the event a success. 
He expressed his gratitude to Sir Durward 'Sea Wolf' Knowles, the Ministry of Youth, Sports and Culture, Caribbean Bottling Company through its product Coca-Cola, Butler & Sands, distributors of Campari, George Myers from Paradise Island, Arlington Butler, past president of the Bahamas Olympic Committee, Leslie Miller, Member of Parliament for Tall Pines, Wallace Auto and Aquapure and others for the contribution they make year after year.