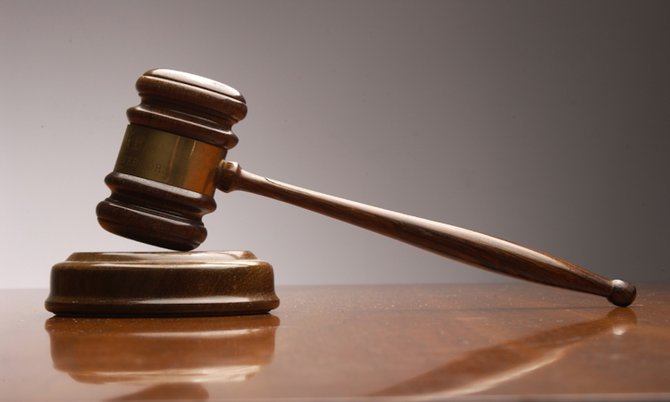 By LAMECH JOHNSON
Tribune Staff Reporter
ljohnson@tribunemedia.net
A MAN was jailed for 54 months after pleading guilty to firearm and ammunition trafficking charges.
Eric Delancy, 31, appeared before Chief Magistrate Joyann Ferguson-Pratt facing eight firearm related offences concerning a seizure that occurred on Friday, February 10.
He pleaded guilty to two counts of possession of ammunition with intent to supply, two counts of possession of ammunition and four counts of possession of an unlicensed firearm concerning 46 live rounds of .45 ammunition, 26 rounds of .40 ammunition, 24 rounds of 7.62 ammunition, 10 rounds of 9mm ammunition, a black 7.62 magazine clip, a black .45 magazine clip and two brown .223 magazine clips that were found in his back yard on Avocado Street.
His lawyer Ian Cargill asked the court for a non-custodial sentencing having regard to his client admitting responsibility from the moment of his arrest and at court.
Mr Cargill also stressed that his client had supported eight children through his employment as a supervisor at Leisure Tours and as a mechanic.
The lawyer also said that Delancy had no prior run-ins with the law and no pending matters before the courts.
Police Prosecutor Sgt Timothy Saunders argued that a prison sentence was warranted in this case as the calibre of the ammunition found, namely the 7.62, had bullet proof piercing capacity.
He also said that deterrence should be the focus.
Chief Magistrate Ferguson-Pratt on Monday afternoon said she was "incensed" by the 7.62 ammunition and that there are "too much murders in this country."
"The velocity of a 7.62 can go through a brick wall. This is bad for our country," the chief magistrate stressed.
"I take your mitigating circumstances in your favour and those aggravating against you and I must try to find a right fit. The charge reflects 46 live rounds, 26 point 40, 24 7.62. This is a trafficker. This is a poor example for your children. An aggravating fact is that for nine years you been keeping these things - if you want me to believe that - and this is something you found."
The chief magistrate expressed surprise that the hiding place of the ammunition survived the winds of Hurricane Matthew, which hit the Bahamas last October.
"The court must speak loud and clear for the Bahamas and a sentence must be seen as a deterrent. Persons like you we need to be put away. I am incensed by this, your actions, and you drag your mother into this," the chief magistrate said.
"There is only one reasonable inference that can be drawn from the facts read by the prosecutor which you accepted. I am satisfied you had an arsenal in your backyard. Anything less than a custodial sentence makes a mockery of the court. A custodial sentence is warranted," the magistrate added.
Delancy was sentenced to three years at the Department of Correctional Services on the ammunition charges and four and a half years - 54 months - on the firearm charges.
She ordered the sentences to run concurrently, meaning that he will serve 54 months for all eight offences.
He also received two years imprisonment for 8.5 ounces of marijuana that was found in his possession, which will run concurrent to the other sentences.
Sgt Saunders withdrew the charges against Delancy's 61-year-old mother and 20-year-old Walter Kelly who denied any involvement or knowledge of the illegal items.
They were represented by attorney Jomo Campbell.