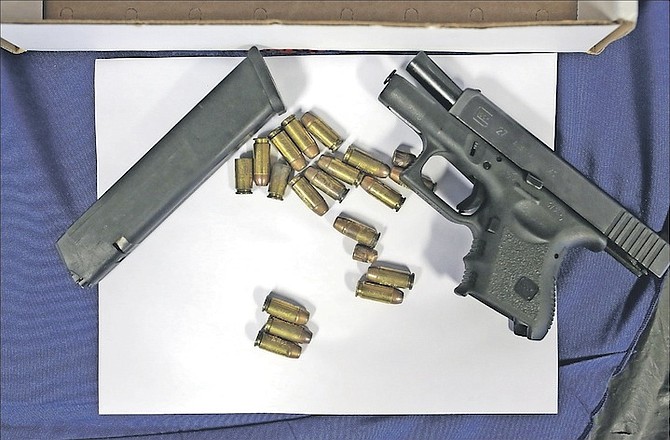 By SANCHESKA DORSETT
Tribune Staff Reporter
sdorsett@tribunemedia.net
FREE National Movement Leader Dr Hubert Minnis yesterday urged Prime Minister Perry Christie to adopt the FNM's crime plan or at least "initiate other serious ideas" to address the horrific murder and crime spree gripping New Providence.
In a press release, Dr Minnis accused Mr Christie of being "dismissive" and ignoring the crime epidemic.
On Monday, after the country recorded 13 homicide in 13 days, Mr Christie likened The Bahamas' crime situation to the "Wild West," as he said the recent wave of murders in the capital must solicit a "major" and "continuous" effort by his administration to "flood the streets" with officers in a bid to do "all that is necessary to bring this madness to a halt".
He said the past bloody weekend was a "shocking development" that will require the government to do much more to "fully understand this senseless set of killings," and have law enforcement respond "as quickly as possible" and in a "very meaningful way" in their crime-fighting efforts.
Mr Christie also said he would be speaking with National Security Minister Dr Bernard Nottage and Commissioner of Police Ellison Greenslade about implementing a "random exercise" where police stop and search vehicles that are carrying more than two persons.
Dr Minnis said on Tuesday that Mr Christie's response "was just not good enough".
"The tragic, brazen crime outbreak must spark a sense of urgency from this government," he said. "They must take immediate action to bring order and safety to our communities. For the prime minister to be dismissive, referring to our country as 'the Wild, Wild West,' shows an appalling lack of leadership, all but ignoring the growing crime epidemic.
"A basic function of government is to protect the Bahamian people from the criminal elements that would wreak havoc in our communities. This cannot stand, the FNM will not allow it."
Dr Minnis called for the government to "put politics aside" and take immediate action, using the FNM's strategies.
"We have developed a comprehensive action plan that seeks to rip crime out at its roots. Our plan is multi-tiered and benefits from the experience of our candidates with law enforcement backgrounds," Dr Minnis said.
"It puts a priority on making our communities and neighbourhoods safe and secure by taking a holistic approach to reducing crime by involving the entire community in our efforts to rid our country of this menace and by strengthening our police force with proper training and equipment.
"These steps can be taken today and we implore the prime minister and his government to implement our plan or at least initiate other serious ideas to addressing this horrific murder and crime spree gripping our neighbourhoods.

"Bahamians deserve nothing less from their government."
As part of its crime plan, the FNM has pledged to adopt a "zero-tolerance" policy on crime; work with community-based partners to change the culture of violence in communities through neighbourhood safety programmes; eliminate crime habitats; enact legislation to establish the National Intelligence Agency (NIA); use state-of-the-art technology including gunshot detection devices, social media exploitation technologies, drones, etc, and establish a National Neighbourhood Watch Consultative Council.
The party has also pledged to establish a public sector anti-corruption agency; conduct a comprehensive review of police officers' compensation; strengthen the RBDF satellite base presence/operations in the northern, central, southern and southeastern Bahamas; enforce Marco's Law inclusive of a sexual offenders register and implement aggressive measures to address the trafficking of narcotics, firearms, human trafficking, illegal immigration and poaching.
The FNM has also said it would establish a forensic crime lab with an independent director; increase efforts on financial and cyber investigations; and place metal detectors at school entrances and use CCTV and professionally trained security officers for reinforcement.
Homicides have increased by 69 per cent compared to this period last year, according to The Tribune's records.
By February 13 last year, police had recorded 16 murders, according to The Tribune's records. Up to press time, 27 people had been killed so far this year, with 13 murdered in the 14 days of this month.